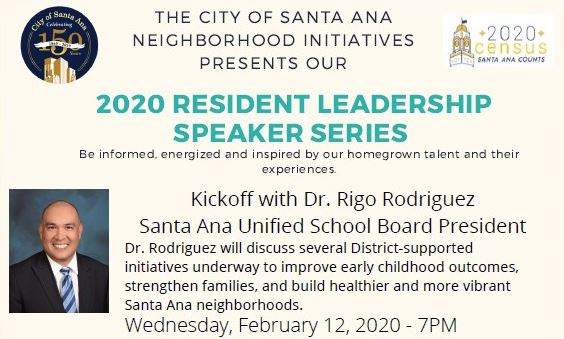 The City of Santa Ana's Neighborhood Initiatives Program is kicking off the 2020 Resident Leadership Speaker Series on Wednesday, Feb. 12.
The series offers the public an opportunity to hear from community leaders who will give insightful and inspiring presentations each month through May. The speakers also will have question and answer sessions with the audience.
The speakers are:
• Feb. 12 – Dr. Rigo Rodriguez, President of the Santa Ana Unified School District Board of Trustees
• March 11 – Joanna Peterson McCall, Casa de Santiago Neighborhood Association
• April 8 – Jose Rea, Madison Park Neighborhood Association
• May 13 – Cynthia Contreras-Leo, Vice Chair of the Santa Ana Planning Commission
The events all take place at 7 p.m. at The Frida Cinema, 305 E. 4th St. in downtown Santa Ana. Spanish interpretation will be available and free parking validation will be provided for nearby city garages. Seating is limited.
For more information, call Santa Ana Neighborhood Initiatives at (714) 667-2260.