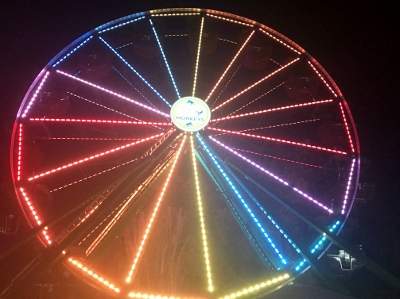 "FIFTY MONKEY FERRIS WHEEL" OPENS AT THE SANTA ANA ZOO on Saturday May 26!
The 64-Foot Ferris Wheel at the Santa Ana Zoo will Soar Up in the Air Carrying a Projected 65,000 Riders Every Year!
Cathi Decker, Executive Director of Friends of Santa Ana Zoo (FOSAZ), announced the Grand Opening of the "Fifty Monkey" Ferris Wheel at the Zoo on Saturday, May 26. It is the first Zoo in the United States to put in a permanent thatched-roof style wheel. Nestled between the Zoofari Express Train and the Conservational Carrousel, the Fifty Monkey Ferris Wheel is the perfect addition for this local Zoo, providing a total of three child-friendly attractions to be shared and enjoyed by all ages. The ribbon cutting will be at 11 AM.
Editor's Note – the Santa Ana Zoo's next free day for Santa Ana residents is this Sunday, May 20. Proof of residency (driver's license, utility bill) will be required upon arrival… Continue reading→