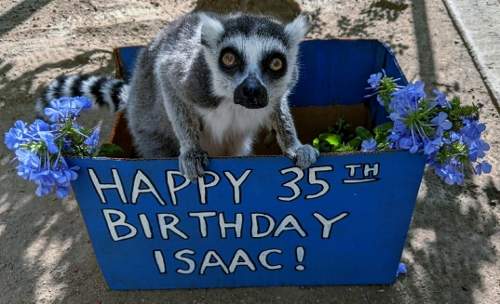 Santa Ana, Calif. – The Friends of Santa Ana Zoo (FOSAZ), a non-profit organization, invites Zoo guests to join us in celebrating "Isaac" the ring-tailed lemur's 35th birthday on Saturday, July 10!
Ring-tailed lemurs are easily identified by their long tails with 13 alternating black and white stripes. While movies may have you thinking about their dance moves, these prosimians are most often found relaxing both in the trees and on the ground of their habitat.
"Isaac" is believed to be the oldest living ring-tailed lemur in the United States at 35 years old. He is in good health, maintaining an active lifestyle with his daughter "Jesse" who was born in 2015. In the wild, ring-tailed lemurs reach an average of 16-19 years old.
Lemurs are some of the most endangered primates in the world with their native habitat in the forests of Madagascar decreasing at an alarming rate. The Santa Ana Zoo participates in a number of conservation programs to help both local and international species, from frogs to lemurs. You can help protect ring-tailed lemurs by making good decisions for wildlife like not using harsh chemicals on your yard or for cleaning, recycling and reusing what you can, and being a responsible pet owner by not considering or adopting wild animals as pets. You can support the Zoo's animals directly through our Animals Depend on People Too (ADOPT) program. All funds from the ADOPT program go directly to animal care and conservation.
The Santa Ana Zoo is home to more than 260 animals, including 60 of the most interesting and engaging primates and several endangered species. The parking, park and grounds are wheel-chair accessible. The Zoo is beautifully landscaped and showcases a wide array of succulents, flowers and other conservation-friendly varietals. Inside the Zoo there is a wonderful playground with nearby seating for parents and guardians. Also available throughout the Zoo are picnic tables and rest areas, and tons of shade, as well as the famous Zoofari Express Train, the Conservation Carrousel and the new Fifty Monkey Ferris Wheel. Guest admission, ride ticket, and gift shop purchases contribute to the Zoo's Conservation funds.
Open daily Sunday-Saturday from 10:00 am – 4:00 pm, the Santa Ana Zoo participates in conservation efforts to save local and South American species, including frogs, turtles, and lion tamarins. To become a Member of the Zoo, please call (714) 953-8555 x13. The Santa Ana Zoo in Prentice Park is located at 1801 East Chestnut Avenue, Santa Ana, CA 92701.
Find out more about Zoo admission and conservation projects or ADOPT an animal, visit www.santaanazoo.org. You can also follow us on Twitter, join us on Facebook, or discover us on Instagram.