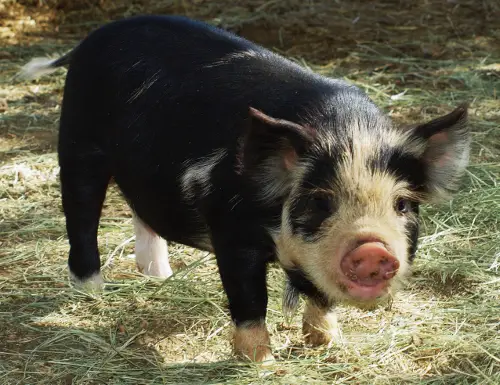 Santa Ana, Calif. – The Friends of Santa Ana Zoo (FOSAZ), a non-profit organization, invites Zoo guests to welcome the latest residents to our Zoo Family, "Hana" and "Pua," two Kunekune pigs. These adorable little pigs are settling in to their new home at the Crean Family Farm.
Kunekunes (pronounced "cooney cooney") are domesticated pigs once thought to be only found in New Zealand living among the Maori people. Today, they are found worldwide, including in the U.S. Kunekunes are identified by their chin tassels, called "piri piri," and varied coat colors. They can grow to over 200 pounds.
Next time you visit, stop by to see what our new friends are up to. Who is who? "Pua" (meaning "to bloom or flower" in Maori) has a light colored coat, while "Hana" (meaning "to shine, bright, radiant") has a darker coat.
The Santa Ana Zoo is home to more than 260 animals, including some of the most interesting and engaging primates, and several endangered species. The parking, park, and grounds are wheel-chair accessible. The Zoo is beautifully landscaped and showcases a wide array of succulents, flowers, and other conservation-friendly varietals. Inside the Zoo there is a wonderful playground with nearby seating for parents and guardians. Also available throughout the Zoo are shaded picnic tables and rest areas. The famous Zoofari Express Train, Conservation Carrousel, and Fifty Monkey Ferris Wheel operate Friday through Sunday. Guest admission, ride ticket, and gift shop purchases contribute to the Zoo's conservation funds.
Open daily for admission from 10:00 am – 4:00 pm, the Santa Ana Zoo participates in conservation efforts to save local and South American species, including frogs, turtles, and lion tamarins. To become a Member of the Zoo, please call (714) 953-8555 x13 or visit our website. The Santa Ana Zoo in Prentice Park is located at 1801 East Chestnut Avenue, Santa Ana, CA 92701.
To find out more about Zoo admission and conservation projects or ADOPT an animal, please visit www.santaanazoo.org. You can also follow us on Twitter, join us on Facebook, or discover us on Instagram.