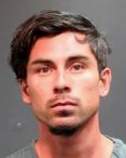 Santa Ana Police Department
Advisory: Law Enforcement Works with Concerned Citizens to Stop a Sexual Predator and Save a Child Victim
On July 27, 2016, the 4-year-old victim and several family members were celebrating a birthday at Jerome Park in Santa Ana. At about 8:15 PM, the 4-year-old playing on the playground with other children. A few minutes later, the child's mother lost sight of her son and began searching for him. After failing to locate her son, the child's mother called the Santa Ana Police Department, who immediately responded to the area to continue the search.
Santa Ana Police Officers utilized the OCSD Air Support Unit helicopter to broadcast the description of the lost 4-year-old child to the nearby community. Two concerned citizens saw a child matching the description of the lost child in a nearby market. The child was being accompanied by Armando Torreblanca Núñez, 28, of Santa Ana. The citizens confronted Nunez, who released the child and tried to flee the scene. The citizens detained Nunez and called police officers who responded to the scene immediately. The child was unharmed and returned to the mother.
Santa Ana Police Officers and Detectives began an investigation into the circumstances of the incident. They found evidence that convincingly showed that Nunez intended to kidnap and sexually assault the child. However, Nunez was stopped by the quick response of police officers and the concerned citizens. Thanks to the quick thinking and concern of these citizens, Nunez was stopped from sexually assaulting the victim. Nunez was booked into the Santa Ana Detention Facility for charges of 209 (b)(1) PC – Kidnap for the purpose of a lewd act with a child, PC, 288a PC – Lewd act with a child, and 207 (b) PC – Kidnap.
The Santa Ana Police Department commends the actions of these Good Samaritans involved in this case, and the many other community members who continually help the police department make Santa Ana a safer place for everyone. Too often, these good citizens' efforts go unrecognized, despite the vital role they play in public safety.
Nunez has lived in several Orange County Cities, including Santa Ana, Orange, Irvine and Tustin. If you are aware or suspect Nunez committed illegal activity, please contact Santa Ana Police Detectives at (714) 245-8343 or Orange County Crime Stoppers at 1-855-TIP-OCCS.