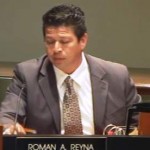 Santa Ana City Councilman Roman Reyna must be in full panic mode by now. Reyna is running for reelection in November, but this time he is facing a 25-year member of law enforcement, Juan Villegas. Do you remember what happened to Reyna the last time he ran against someone in law enforcement?
Reyna got his butt kicked in 2004 by Claudia Alvarez, a Deputy O.C. District Attorney, when they faced off in that year's Ward 5 election. Alvarez thoroughly trounced Reyna by over 16,000 votes, according to Smart Voter.
Reyna must surely be going nuts as it is very likely that Villegas will do to him what Alvarez did in 2004. Remember that the last time Reyna was on the ballot, two years ago, he was destroyed by Mayor Miguel Pulido. That was the year that Reyna got caught posing with members of the Mexican Mafia. The Santa Ana Police Officers Association asked Reyna what was up with that and he refused to explain himself. SAPOA then dropped a ton of mail against Reyna, featuring the infamous homie photo.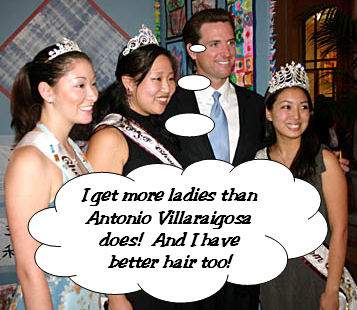 So what is Reyna going to do now?  Well for starters he is hosting a campaign reception on Sep. 27 with gun-grabbing Lt. Governor Gavin Newsom, who is currently spearheading Prop. 63 – a ballot measure that will criminalize currently legal gun owners!
I guess Newsom has no idea that Reyna is gangbanger-friendly.  It is likely that Reyna's ally, Planning Commissioner Phil Bacerra, had something to do with this. Bacerra used to work for Newsom, who is from San Francisco. Looks like Bacerra called in a favor from Newsom.
But is Newsom going to help Reyna? Newsom's Prop. 63 is horrendous. This unconstitutional overreach will cost California voters millions without making us any safer and it will extort us into paying unnecessary fees and waiting forever to buy ammunition for our legally obtained guns. It will also divert law enforcement from fighting actual criminals, compelling police officers to come after legal gun owners instead. Click here to find out more about Newsom's Prop. 63.
As it currently stands legal guns are all the only way for many Santa Ana families to protect themselves from Reyna's gangbanger homies. The SAPD is massively understaffed, and Reyna voted recently against hiring more police officers. Furthermore Reyna supported the firing of our great former Police Chief, Paul Walters, and the hiring of inexperienced and ineffective Police Chief Carlos Rojas. Reyna also voted to disband the SAPD's gang squad and he voted to hire, and overpay, our oversexed City Manager, David Cavazos, who promptly dumped his wife when he left his last job in Phoenix, AZ and then had an affair with a City employee in our Planning Agency.
Crime is out of control in our city due in great part to Reyna's machinations and now he is bring a gun-grabber, Newsom, to save his City Council campaign?  Good grief!
Of course Reyna has no choice but to try to hang on to his Council seat. He didn't finish high school or go to college. He doesn't seem able to hang on to any actual jobs. In fact he is so desperate that he and his colleagues put a Measure on the November Ballot, Measure PP, to try to connive Santa Ana voters into giving these losers a 700% raise!