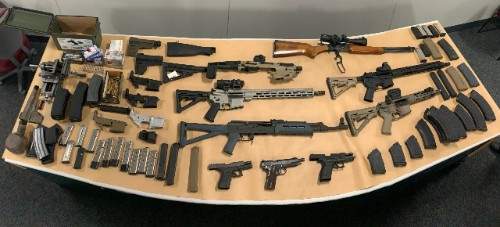 On 04/18/2020 detectives from the Metropolitan Division conducted a traffic stop in the 100 block of S. Andres Place. During a search of the vehicle, a loaded handgun was recovered. The firearm was non-registered and contained a high capacity 19 round magazine. The suspect, Leopoldo Vasquez Carrasco (24) was also believed to be involved in the manufacturing and selling of illegal assault weapons and magazines.
Based on information learned from the arrest on 04/18/2020, detectives obtained a search warrant of the suspect's residence. On 05/01/2020 detectives executed the search warrant in the city of Rancho Santa Margarita. Several illegal assault rifles, handguns, magazines and tools to manufacture weapons were recovered as evidence. Carrasco was arrested and charged with the following weapons violations:
PC 30600 manufacture assault weapon
PC 30605 possess assault weapon
PC 33215 possess short barreled rifle
– to include indicia/tools used to manufacture firearms
In total, Santa Ana PD Metropolitan Division detectives seized: 12 firearms, thousands of rounds of ammunition of various calibers and high capacity magazines.