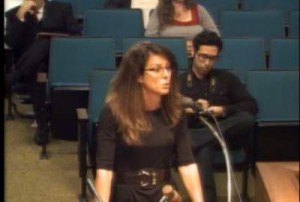 UPDATED: The Voice of OC is now reporting that Jill Arthur is possibly working in a volunteer capacity for Santa Ana Mayor Miguel Pulido.  We have no problem with that.  Who the Mayor opts to work with is up to him and apparently the taxpayers are not on the hook.  That sounds like a good deal for the people of Santa Ana.
Jill Arthur, Santa Ana's former deputy city manager accused of wrongdoing at the city's unemployment office, is no longer employed at City Hall after a city investigation into the incident, Voice of OC has confirmed.
We might never know why in the world Arthur offered to use her influence at the city's work center to help a young man named Marcel Alvarez to find a job after she backed her vehicle into his car but apparently that is what she did.
It is a heck of a strange ending to a long career that saw Arthur rise to the very top – she was even promoted by the Interim City Manager, Kevin O'Rourke, who was hired after Mayor Miguel Pulido's friend, former City Manager Paul Walters, was fired (for no good reason).
The Council Members might be yucking it up now that Arthur is gone from City Hall, as she was another known ally of Pulido, but imagine if she ever talks?  She must have incredible dirt on each and every one of those Council Members.  Several of them have been on the Council long enough to have compromised themselves – and three of them are up for re-election next year (Sal Tinajero, David Benavides and Michele Martinez).
Arthur's old boss, former City Manager Dave Ream, is long gone but when he was in his prime the Council always did as they were told – and everybody got plum appointments and all sorts of "extras" that would probably land the lot of them in jail today.
Has anything really changed at City Hall today? Of course not!  Different faces, same old corrupt ways.  But at least now I can peak at their Council calendars and see what they have been up to!
As for Arthur, don't cry too much for her.  She surely socked away a lot of money over the years and she got another $83,856.15 for unused time off.  I bet it won't be too long before she turns up at some developer association.  And she likely won't miss working with our current Council Members…