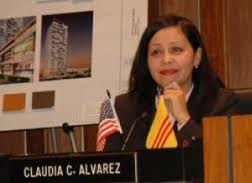 Santa Ana Mayor Pro Tem Claudia Alvarez most likely won't be able to run for a fourth term on the Santa Ana City Council, according to an article posted in the Voice of OC today.  Alvarez is going to term out in 2012, but if she wants to stay in politics she has a lot of options.  Alvarez will have served three terms on the Santa Ana City Council, after extending term limits by one term via the successful passage of Measure D, a few years ago.
Alvarez chose not to run for the 69th Assembly District again.  Her colleague, Council Member Michele Martinez is the leading contender for that seat.  Alvarez could run for the First Supervisorial District, against incumbent Janet Nguyen.  But it is more likely that State Senator Lou Correa may do so.
So where should Alvarez go?  How about the Santa Ana Unified School District's (SAUSD) School Board?  She could walk on easily.  Three SAUSD Trustees are up for reelection in 2012, including Rob Richardson, Jose Hernandez and Roman Reyna.  Of the three, it is likely that only one of them, Reyna, will opt not to run.  He is likely to run for, and win, Alvarez' seat on the Santa Ana City Council.
Alvarez has been the top vote-getter on the Santa Ana City Council.  Does anyone doubt she will win if she runs for the SAUSD School Board?
If Alvarez does run, and win, she will be amongst friends.  She is a longtime ally of SAUSD Trustees Audrey Noji. 
I think Alvarez would actually be an effective SAUSD Trustee.  She is a good role model for the district's Latino students – and like many of them and their parents, she was born in Mexico.
Alvarez has always been a champion of law and order – and the fact is that for our city to prosper we need strong public schools.  We need to keep kids in school and we need to increase graduation rates.  I have no doubt that Alvarez would push for all of that and more.   
And get this, Alvarez could walk onto a seat on the SAUSD School Board, then run again for the Santa Ana City Council in four years.  She would likely win and then be able to serve three more terms on the Santa Ana City Council.  Or, if Mayor Miguel Pulido ever retires, she would likely be in the lead to run for his seat.