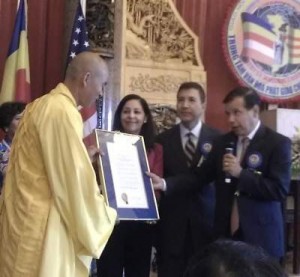 "After a long time, through many difficulties, under the enthusiastic help of effort and money from donors and Buddhists in many places, especially Council Member Santa Ana, Bao Quang Temple was officially inaugurated on Sunday morning, with the spacious, majesty and the splendor, before hundreds of religious clergy, visitors and community members," according to Nguoi Viet.
Mayor Miguel Pulido was there.  So was Ward 5 Council candidate Karina Onofre.  They were joined by Santa Ana Mayor Pro Tem Claudia Alvarez, a candidate for the Rancho Santiago Community College District's Area 3, and Santa Ana Council Member Vince Sarmiento.  But mayoral challenger David Benavides and his clip-on tie wearing sidekick, Ward 5 challenger Roman Reyna, were missing in action.
Why are Benavides and Reyna writing off the Vietnamese vote? Thousands of Vietnamese Americans have been moving into Santa Ana for several years now.  They are part of our social fabric.  They are often business owners and they work hard to educate their kids. So why did Benavides and Reyna show such disrespect by skipping out on this event?
Reyna has suggested recently to his friends that he has the election "in the bag."  Well that certainly isn't the case on the west side.  Onofre has those votes now!
This is just another epic fail for the wilting Team Benavides…it says volumes that one of their own, Sarmiento, was there but apparently he didn't tell Benavides and Reyna about the event!  LOL!  So much for their solidarity.