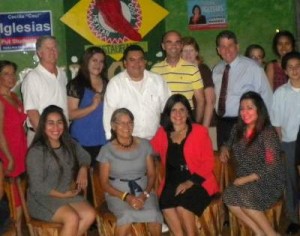 I asked SAUSD School Board candidate Cecilia Iglesias to clarify her position on the Dream Act.  You may recall that her fellow Republicans, Robert Hammond and Charles Hart, brow beat her at a meeting of the OC GOP Endorsement Committee into disavowing the Dream Act.
But now Iglesias says she is not against it at all although she does not refer to the Dream Act by name in her statement.  Here then is her statement clarifying her position on the Dream Act:
To all residents and voters of Santa Ana,
My name is Cecilia "Ceci" Iglesias. I am a candidate for Santa Ana School Board. I am passionate about education and that is the reason why I am running to represent you at the School Board level.
I believe that ALL students deserve access to quality education in our Santa Ana Schools. That is why I founded a nonprofit organization to provide homework assistance to deaf and hard of hearing students and to teach sign language to the parents of deaf children. I believe we should provide English Language Learner programs for students who have English as their Second Language.
I strongly believe that all students who have graduated from our Santa Ana schools should have the opportunity to attend and participate within our colleges and universities as California residents. I support giving our children an opportunity to quality education regardless of national origin. This is the only way we will develop productive citizens in our Santa Ana communities.
Please join me, along with Santa Ana students and parents, to "PUT STUDENTS FIRST!"
Thank you for your vote,
Cecilia "Ceci" Iglesias
Click here to view Iglesias' endorsements.