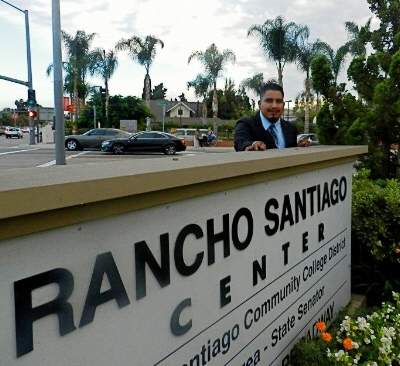 Tony Tapia has launched his campaign website, for Area 3 on the Rancho Santiago Community College District's Board of Education.
Tapia is the only candidate running for Area 3 who actually has business experience.  He helps to manage a family business and he also works as a construction laborer, out of a trade hall here in Santa Ana.
We have had a real problem over the past few years with RSCCD Trustees wasting money on ill-advised projects.  After they passed a bond measure they spent a fortune on a Deputy Sheriff Training Center we didn't need – and spent millions on the campus of the Santiago Canyon College while depriving Santa Ana College of the funding.  Tapia won't let that happen again!
The other candidates who are running include OC GOP Central Committee member Thomas Gordon and Democratic Party also-ran Nelida Yanez.  She lost badly the last time she ran for office, getting trashed by David Benavides about six years ago.
The last thing we need to do is elect a political hack to Area 3.  Tapia will be beholden only to the voters, period!
One thing I know about Tapia – he is walking and he will walk the entire Area he is running for.  I truly doubt that Yanez and Gordon will do any walking at all.
If you look at the current RSCCD Board of Trustees one thing that stands out is how old they are.  Tapia is obviously a young man and that is a welcome change.  He will fight for our students as one of them – a youth leader.
As a trustee, Tony will:
Focus on keeping students in school and providing resources to help them graduate.
Spend money responsibly and make sure that Santa Ana College is not overlooked by the RSCCD trustees
Work to improve the learning environment and embrace new technologies.
Prepare students to move on to four-year universities.
Create flexible programs for adults returning to school.
Make education more accessible to veterans and help them transition and help them to the RSCCD campuses.
If you have any doubts I urge you to contact Tony and get to know him.  He is the real deal!