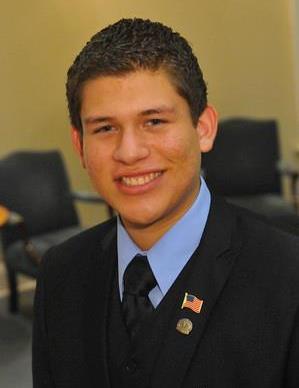 A letter from Georgetown University student Jonathan Espinoza to the residents of Santa Ana:
October 14, 2012
Dear Fellow Residents of Santa Ana:
Three months ago, I gathered what little belongings I had to my name, packed them in my bags and headed out to LAX to catch a plane that was scheduled to depart at 6:00 am en route to Washington, DC. As my family and friends said their goodbyes, I did not know what to make of everything going on. I saw my mother burst into tears as I walked away into the terminal (I don't know if they were tears of sadness as she saw me leave, or tears of happiness because I was going out and finally chasing my American Dream). I remember the smile on my friend's face as he said his goodbye, and I remember the feelings that suddenly took over me as I realized that a new chapter in my life had just begun. After I passed the TSA checkpoint I had to wait about an hour to board the plane, and so emotions and memories began to rush through my mind. I felt happy, sad, joyful, anxious but most of all – afraid.I felt happy and full of joy because what my mother and I thought to be impossible was now a reality. I was on my way to pursue an education, to attain a diploma from a prestigious university as I had long dreamed – I was on my way to Georgetown University. However, along with the feelings of happiness and joyfulness also came the natural feeling of being afraid, anxious and sad. I was sad that I was leaving my family and my friends back home, I was leaving behind my great City of Santa Ana, and my beloved Southern California. This thought not only came with sadness, but also with a feeling of being afraid. I was off to a new place and the thing that haunted me the most was the thought of whether or not I would fit in to a place that is generally known for it's wealth and affluent student population.
As I heard the announcement for my flight I snapped out of my thoughts and I remember the feeling of 'this is it' taking over me. I boarded the plane, sat down, put my seatbelt and waited for the plane to take off. Seconds later, the plane was speeding down the runway and indeed there was no turning back.
Eight hours and a transfer later, I touched down in Washington's Ronald Reagan National Airport. I grabbed my bags and headed out to the shuttle bus that had been scheduled by the university to pick me up. When I was dropped off at the front gates, I stood in front of the gates and stared at the Healy Clock Tower. I dropped my bags and thought to myself, I don't belong here. I finally composed myself, picked my bags up and headed to my dorm – my new home. I settled down and prepared myself to begin my academic journey at Georgetown.
The first day of class, I was absolutely left terrified. It seemed as though everyone else around me was so much smarter than I was. Everyone else knew so much more than I did. When the professor talked it was like she was talking a whole different language. I honestly had no idea what she was talking about. In all honestly, after the third week at Georgetown, I went back to my dorm, locked the door and sat by the door and just started to cry. I missed home and I missed my friends back home. I felt like I did not belong at Georgetown and as though the admissions office had made some mistake when they send me acceptance letter. I felt dumber than all the other students. However, after throwing my tantrum I got up and sucked it up. I was going to be just as good as those other students even if it meant having to work ten times harder than them, even if it meant I had to put ten times the effort and spend that much more time just to do as well as they could.
Today, three months later things have got a lot better. Things are still a bit hard, but I am getting used to the rigor of things. I don't blame my teachers for not having adequately prepared me for college, but rather I blame our educational system. At the end of the day though, it comes down to the individual to take the extra step that is necessary in doing what is needed in order to succeed. Georgetown has not been easy, and the financial situation hasn't been either. Although tuition, room and board is paid for, there are still textbooks, flights for the holidays, day-to-day expenses, personal expenses and other bills that come along with life. That's life, so we have to find a means to make it. I have picked up two jobs along with my 16 credit hours, but things are getting better and I can't complain. My schedule is demanding and rough, but no one said anything in life is easy. If you want something out of life you have to make a sacrifice.
Being here in Washington, DC has also taught more than just whatever a textbook or a classroom could ever teach me. It has taught me about the realities of life. Everyday when I run to catch the metro in the afternoon, I see all the people suffering, all the homeless people who simply need a hand up. How is it that our politicians don't see that in our very own capitol we have people who go to sleep without food in their stomachs, without a place to sleep? Temperatures here are starting to hit the low 40's in the night and only rise to the high 50's to mid 60's. Friday coming home, it was 3 am and I saw homeless people laying out newspapers to sleep. I see the same lady everyday eating whatever she can find. Our politicians talk about bringing change, about doing something, but all they do is talk and don't do anything. Being in Washington has taught me to value even the smallest things in life. Every Friday after work I go and feed the homeless for a good four hours and it's amazing to see the smile that comes over their face as they see that someone truly does care, that someone is not judging them for what they appear to be.
All in all what I want to say is Thank You! Thank you to all the people who made it possible for me to be here today, to all the people who helped me pay for my enrollment and deposit fee. Who made it possible for me to be here at Georgetown and to follow my American Dream. When I call my mother and ask her how she feels that I am here at Georgetown, she always tells me how she never imagined I could be here. She thought I would not be able to pursue higher education because we simply would not be able to afford it. When I talked to her about my dreams of going off to a great college, she tells me she was happy, but deep down she was afraid that when the day came she would not be able to send me off. Thus, I want to Thank everyone, everyone who helped me make my enrollment fee and my deposit, I want to thank every person who gave me advice, who put their hand down and pulled me up along with. When I am done here at Georgetown, it'll be time for me to go back home and help someone else up! It'll be time for me to lower the ladder down so that I can help someone else climb like people helped me. I miss Santa Ana, and as beautiful as Washington, DC is, I'm just visiting. I can't wait to go back to Santa Ana an educated man, so that I can help all those around me and help bring the change we need.
Thank you to everyone!
Sincerely,