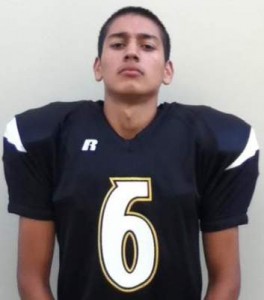 The victim of the shooting death in the 1400 block of South Standard on January 24, 2014 has been identified as Jeffrey "Jay Jay" Enriquez (18) of Santa Ana, a former football player at Godinez Fundamental High School. He leaves behind his mom, Maria, and seven brothers and sisters.
On 1-24-14, at approximately 1:10 AM, Santa Ana patrol officers responded to a report of a person who was observed lying on the ground in the 1400 block South Standard Street. Upon their arrival, officers found a male adult who was shot and in need of medical assistance. The Orange County Fire Authority and paramedics responded to the scene and pronounced the subject, who was later identified as Enriquez, deceased, according to the SAPD.

Enriquez played football at Godinez Fundamental High School during his sophomore and junior years but had not been enrolled at the school since October, said Deidra Powell, a spokeswoman for Santa Ana Unified School District, according to the L.A. Times.

Enriquez is not a documented gang member, Bertagna said, but investigators are looking into whether he had any associations with members of local gangs. No suspects have been identified, according to the O.C. Register.
SAPD homicide detectives are asking that anyone with information contact their office at (714) 245-8390, or Orange County Crime Stoppers at 1-855-TIP-OCCS.
The Santa Ana Police Department is offering monetary rewards for information leading to the arrest of gang homicide or felony gang assault suspects. If you have information about any gang homicide or felony gang assault suspects, please call (714) 245-8390.