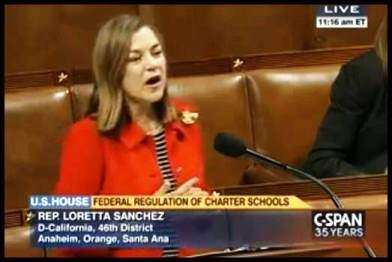 Congresswoman Loretta Sanchez, Representing California's 46th Congressional District
STATEMENT, FOR IMMEDIATE RELEASE: May 9, 2014
MEDIA CONTACT: Barb Solish, 202-226-8373, Barb.Solish@mail.house.gov
REP. LORETTA SANCHEZ'S AMENDMENT TO STRENGTHEN CHARTER SCHOOLS WITH COMMUNITY INVOLVEMENT PASSES
WASHINGTON – Congresswoman Loretta Sanchez (CA-46) today spoke on the floor of the House of Representatives in support of her amendment to H.R. 10, the Success and Opportunity through Quality Charter Schools Act. The amendment was adopted and H.R. 10 was subsequently passed. Rep. Sanchez's amendment will require state entities to report how charter school programs encourage community involvement in the planning and opening of additional charter schools. Below are her transcribed remarks and a link to the video.
Watch the speech by clicking here.
"Innovation is important to our country and to our communities. Innovation in education is a step up in our economic situation here in the United States. A high quality education is the foundation, it's really a foundation not just for individuals but for families, for communities, for our nation. And that is one of the reasons why I believe that it's important to have charter schools and to have charter schools compete well, to have charter schools thought out well. They are an addition to what is going on in our public school system.
"Mr. Chairman, back in my area I have two very, very outstanding charter schools right down the street from where I live. One of them is the Orange County School of the Arts, performing arts, and aside from that it has one of the highest academic levels. In fact, it is in the top ten charter schools in my home state of California. As you know we represent large amount of people, 38 million or so. So that's saying something. I also have the El Sol Science and Arts Academy down the street from me. That is an elementary school. What it has seen is incredible achievement, the close of the achievement gap for lower income students.
"But not all schools are high quality, not all charter schools are high quality. What we need to do is recommit to ensuring that both traditional public and charter schools, as well as private schools, do a good job for America. So that's why I will be voting for H.R. 10.
"My amendment, Mr. Chairman, would simply work to ensure that community involvement is happening with charter schools. That's incredibly important. I know that when I went to school my community was involved in my public school, and that's why it was one of the most outstanding elementary schools in our nation at the time. So I'm pleased to have worked with my colleagues from both sides of the aisle on the amendment that I'm offering today which will hold public charter schools accountable in fostering and promoting community involvement.
"Simply said, the amendment requires state entities receiving funds through the charter schools program to report on how their allocations are supporting and enhancing community involvement. The voices in our communities matter. The voices of parents, of educators, stakeholders. Let's not forget that it is those communities that send each of us here to the United States House of Representatives. So I believe that charter schools must be engaged with the local community to understand the students they teach and my amendment will strengthen the role of community in the process.
"Higher community involvement in schools is essential to the success of the students and it's also essential to the families of those students. So I believe that this amendment will help us in making that gap of achievement – that we see in so many areas where charter schools are located – making that gap of achievement smaller. While charter schools are not the final solution to the educational challenges in our country, let's ensure that all of our schools are positively contributing to the promise of a quality education for every child in every neighborhood."
###
Congresswoman Loretta Sanchez is proud to represent California's 46th Congressional District, which includes the cities of Anaheim, Santa Ana, and parts of the cities of Garden Grove and Orange in Orange County. She serves as Ranking Member of the House Armed Services Subcommittee on Tactical Air and Land Forces and the second ranked Democrat on the Committee on Homeland Security. Rep. Sanchez is also a member of the fiscally conservative Blue Dog Coalition and sits on the bipartisan, bicameral Joint Economic Committee.