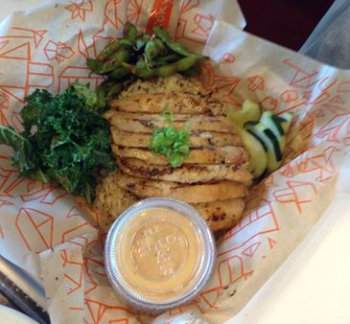 Tokyo Bento has arrived in Santa Ana.  They offer Japanese lunch boxes at affordable prices and are located at the CityPlace, at 2775 Main St., in Santa Ana.  You can like them on Facebook here.
Tokyo Bento is a fast casual restaurant chain, serving core Japanese flavors with unique dipping sauces featuring global influences. A Yelper described them as " It's basically Flame Broiler set up with the Chipotle assembly model."  Another Yelper had a worse comparison –  "Yoshinoya meets Chipotle. Yoshinoya for the Americanized Japanese food, Chipotle."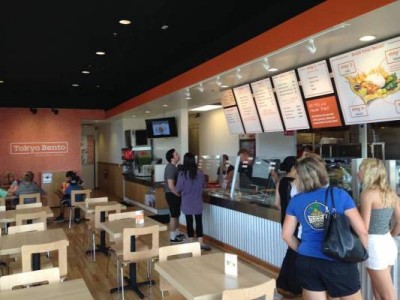 At Tokyo Bento you are able to pick what you want for your lunch, including your pick of white or brown rice, Bao, or salad.  Then you can add a protein, which ranges from Teriyaki Chicken to Portabello Mushrooms.  Then you pick a sauce – and some of them seem strange for a Japanese restaurant, including Peruvian Salsa, whatever that is; Garlic Aoli, Peanut Sauce and Sriracha Sour Cream.  The food is placed in a Styrofoam container but Yelpers have complained that the package lacks divisions so the food blends together – that is not usually what you expect from a proper bento.
Many Yelpers have also been commenting that Tokyo Bento does not provide much meat – and others complained about the quality of the brown rice.  However everyone seems to agree that the mushroom dish is very tasty.
Bento originates from a Song Dynasty slang term meaning "convenient" or "convenience," according to Wikipedia.  A traditional bento holds rice, fish or meat, with pickled or cooked vegetables, usually in a box-shaped container.
Click here to see the menu at the new Santa Ana Tokyo Bento.  Call them at 714-929-1003 or email them at tokyobento@dreamdining.com.
Their hours are from 11am – 9:30pm, 7 days a week.