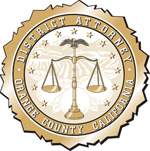 ORANGE COUNTY DISTRICT ATTORNEY PRESS RELEASE
Case # 14WF4259
January 15, 2015
TWO MEN TO BE ARRAIGNED FOR MONEY LAUNDERING AND CONSPIRING TO SELL COUNTERFEIT ELECTRONIC MERCHANDISE VALUED AT NEARLY $3 MILLION
*Items included Apple iPhones, iPads, smartphones, and cameras. Third co-defendant in this case is a fugitive.
WESTMINSTER – Two men are scheduled to be arraigned tomorrow on money laundering and conspiracy charges for selling counterfeit electronic goods valued at nearly $3 million, including counterfeit iPhones and iPads, following an investigation by the U.S. Immigration and Customs Enforcement's (ICE) Homeland Security Investigations (HSI) and the Fountain Valley Police Department (FVPD).
Rateb Said Najjar, 60, and his son, Eyad Rateb Najjar, 36, both of Westminster, are each charged with 134 felony counts of money laundering, six felony counts of manufacturing and sale of a counterfeit mark, two felony counts of conspiracy to commit a crime with sentencing enhancements for property damage over $1.3 million, and money laundering in excess of $2.5 million. If convicted, the defendants face a maximum sentence of 104 years in jail.
Eyad Najjar was arrested by HSI special agents and detectives from FVPD on Dec. 10, 2014. Rateb Najjar surrendered himself to the court on Dec. 17, 2014. Rateb Najjar and Eyad Najjar are out of custody on $750,000 bail. Both defendants are expected to be arraigned tomorrow, Friday, Jan. 16, 2015, at 8:30 a.m. in Department W-1, West Justice Center, Westminster.
A third defendant, Amir Ali Shaerzadeh, 36, Irvine, is charged with the same counts as listed above and is currently a fugitive with an outstanding warrant for his arrest.
Between January 2010 and December 2011, the defendants are accused of owning and operating businesses in Fountain Valley that sold counterfeit merchandise imported from Hong Kong and China. They are accused of conspiring to import and distribute counterfeit trademark items, possessing counterfeit trademark items offered for sale, and engaging in money laundering conspiracy involving numerous registered trademarks including Apple, Nokia, Blackberry, Ferrari, Nintendo, and Google.
The defendants are accused of laundering over $5 million and possessing counterfeit merchandise with a retail value of more than $2.8 million including cell phones, tablet computers, portable media players, and game consoles.
"People who sell counterfeit products are essentially stealing from legitimate companies, along with the men and women who depend on those businesses for their livelihoods," said Claude Arnold, special agent in charge for HSI Los Angeles. "Beyond undermining our economy and robbing Americans of jobs, the sale of product knockoffs often goes to fund other illegal enterprises. Counterfeit goods trafficking poses a threat on many levels and we're determined to see that those who attempt to profit from it pay a price for their crimes."
In November 2011, an investigation began after officers with U.S. Customs and Border Protection intercepted a shipment of tablets that were found to contain counterfeit software. During the investigation, FVPD and HSI seized a significant volume of counterfeit merchandise from the various businesses tied to the defendants, along with more than $500,000 in cash inside a safe and funds seized from multiple bank accounts.
The International Anti-counterfeiting Coalition estimates that product counterfeiting costs U.S. businesses $200 to $250 billion a year in lost revenue.
FVPD and HSI investigated this case. Deputy District Attorney Chuck Lawhorn of the Major Fraud Unit/White Collar Crime Team is prosecuting this case.
###
TONY RACKAUCKAS, District Attorney
Susan Kang Schroeder, Chief of Staff
Office: 714-347-8408
Cell: 714-292-2718