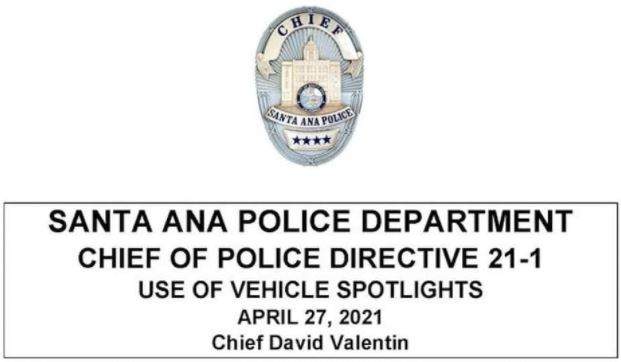 SAPD Police Chief David Valentin issued a new Directive, 21-1, on April 27, 2021, regarding the use of vehicle-mounted spotlights by his police officers.
Apparently the Santa Ana City Council and some community members expressed concern to the SAPD about the use of spotlights by police officers. This is in reference to vehicle-mounted spotlights used by police officers to illuminate drivers on the road.
The problem with this practice is that illuminating a driver with a powerful spotlight can prove to be a distraction to the driver presenting a traffic hazard to other motorists as the spotlighted driver can experience momentary blindness or confusion and even lose control of the moving vehicle.
The new Directive states that effective immediately the indiscriminate use of vehicle-mounted spotlights towards the driver of a moving vehicle is prohibited unless the police officers can articulate exigent circumstances necessitating their use.
SAPD police officers may still use the vehicle-mounted spotlights to initiate a traffic or proactive enforcement stop or when the use of vehicle spotlights is necessary for officer safety.