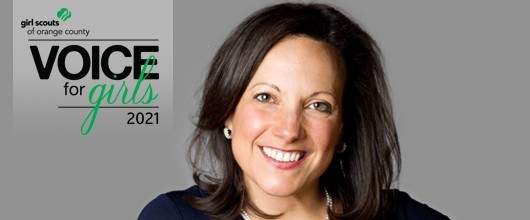 The Orange County Girl Scouts are hosting a free online event. Voice for Girls is a forum for Orange County's decision-makers and key influencers, hosted by Girl Scouts of Orange County, to align local leaders around a vital mission—to support and champion girls in reaching their full potential as leaders in society.
WHEN: ONLINE – Friday, May 7th, from 9AM – 10AM
WHO: Keynote Speaker Andrea Bastiani Archibald, Ph.D. – renowned developmental psychologist – will address the importance of the all-girl environment in preparing girls for a lifetime of leadership.
Moderated by Orange County Girl Scouts, Voice for Girls will also feature a live panel of leaders from Experian, Gensler, Kaiser Permanente, and Western Digital who will discuss the role and impact of female affinity groups in driving recruitment, retention, and performance in the workplace, sharing insights into programs for women they have successfully implemented within their organizations.
Never before has it been more important to invest in girls' leadership. Studies consistently show that one of the most effective ways to boost a nation's economic output, enhance productivity, and improve the overall vibrancy of society is to invest in the leadership capabilities of girls and women.
As an expert on girl leadership, Girl Scouts of Orange County is uniquely poised to lead Orange County in helping girls reach their leadership potential and place the need for balanced leadership in the workplace and society front and center, locally and nationally.
HOW: Register for FREE by Monday, May 3rd at girlscoutsoc.org/vfg.