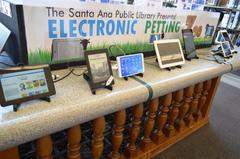 City of Santa Ana
Community Alert: GET CONNECTED WITH NEW E-LIBRARY SERVICES 
NOW AVAILABLE: MOBILE HOTSPOTS, ELECTRONIC PETTING ZOO & ONLINE E-RESOURCES REGISTRATION
The Santa Ana Public Library (SAPL) is excited to announce the arrival of ten (10) new mobile HotSpot devices that will be available for public check-out beginning May 2015. The Jetpack 4G LTE HotSpot devices can connect up to fifteen (15) devices and have unlimited connectivity for wireless internet. With a valid Santa Ana Public Library card, devices will circulate for a two-week, non-renewable lending period.
This new venture is a leap into modern borrowing practices that puts SAPL at the forefront of technology and is an example of our commitment to making the internet accessible to the community.
Visit the Electronic Petting Zoo
Part of SAPL's E-Library package is the new Electronic Petting Zoo that will be available for public browsing this month. With this new service, patrons have the opportunity to try out numerous devices and get a feel for their functionality and ease of use.
Devices available for browsing include: Apple iPad and iPod, Nook, Kindle Fire, Kindle Paperwhite, Nexus 9, Galaxy Note 10.1. While encouraging browsers to familiarize themselves with these devices, this new service will help bridge the digital divide in the community.
Register for Online E-Resources
SAPL is proud to announce a new Online Borrower Registration (OBR) system that allows users to browse and check-out the library's eBooks and e-audiobooks free of charge. Even if you don't have a SAPL Library Card, patrons can sign-up for via the OBR system by visiting http://tlc.santa-ana.org:8086/onlineBorrowerRegistration.html.
Once they receive confirmation, OBR users can browse and check-out the library's eBooks and e-audiobooks using OverDrive at http://santaanapubliclibrary.lib.overdrive.com on a computer or mobile device. For full access to library services, users must come in and apply for a full service Santa Ana Public Library card at the Circulation Desk.
Online Borrower Registration is a resource that will be highly impactful for the Santa Ana community, bringing library resources into the hands and homes of users instantly with a touch of a button.
Visit the library today and get connected! #SAPLGetConnected
For more information on the Santa Ana Public Library's programs and services, visit: http://www.santa-ana.org/library/
###