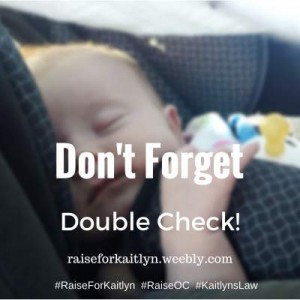 MEDIA ALERT
For Immediate Release: July 31, 2015
Contact: Elizabeth DenBleyker,  (714) 541-7734
THE RAISE FOUNDATION LAUNCHES KAITLYN'S LAW AWARENESS CAMPAIGN-DON'T FORGET. DOUBLE CHECK
(August 2015) Leaving a child unattended in a car in California is both illegal (Kaitlyn's Law) and dangerous no matter what the weather conditions. Joining together to get this lifesaving message out during August is The Raise Foundation — Orange County's Child Abuse Prevention Council — in collaboration with the Orange County Social Services Agency, the Orange County Fire Authority, and the Orange County Sheriff's Department. Also championing the cause are many local car dealerships, banks, hospitals and medical clinics, colleges, stores, companies, youth groups, places of worship, and others. A comprehensive social media campaign, onsite presentations, radio spots, and information booths at community events will aide in educating and reminding the public.
"The Orange County Social Services Agency encourages and supports The Raise Foundation's efforts to educate the community and raise awareness on this important issue," said Mike Ryan, Director of the County of Orange Social Services Agency.
On average, 37 children die each year from heat-related deaths after being left inside a car. As of June 2015, 32 children nationwide have perished this way. In California, the law is named for a southern California infant, Kaitlyn, who at 6-months-old perished from heat-related complications after being left unattended in a motor vehicle. California is one of 19 states to have such a law.
"Most often, the loving parent, grandparent, friend, or caregiver has simply forgotten or didn't realize the child was even in the car," noted Eldon Baber, Executive Director of The Raise Foundation. "The 'Don't Forget. Double Check." awareness campaign message is to help families remember; yet we also ask the entire community to become and remain vigilant. No matter how rushed a person is, please glance into cars — especially at baby car seats — to ensure no child is left unattended."
What should someone do if they see a child left unattended in a car? Call 911 immediately. Alert the parent/caregiver and a security guard if they are nearby. Check the door. If it is unlocked, open the door. If it is locked, talk to the child with a comforting tone and ask the child if they can unlock the door. Other frequently asked questions and answers, reminder tips, and downloadable fliers can be found at www.RaiseForKaitlyn.Weebly.com.
###
The mission of The Raise Foundation, a nonprofit headquartered in Costa Mesa, is to prevent and stop the cycle of child abuse and neglect in Orange County. In 1974, the County Board of Supervisors named the organization as its Orange County Child Abuse Prevention Council. With the help of county funding and generous individual and corporate donors, the organization provides services through Family Resource Centers, assists with food distributions and other community efforts, takes its Resources In Motion (RIM) mobile family resource center vehicle into underserved neighborhoods, hosts an annual countywide educational conference for parents and professionals who dedicate themselves to the wellbeing of children, and coordinates awareness events and campaigns such as Blue Ribbon Child Abuse Prevention Month in April and this campaign. To learn more, call (714) 884-3421, ext. 104, or go to www.theraisefoundation.org.