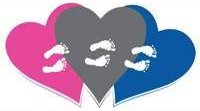 Thousands Will Walk In Orange County To Honor Children Lost to Stillbirth, Infant Death, and Pregnancy Loss
TUSTIN – More than 4,000 people will gather at the 11th Annual OC Walk to Remember to Remember, a Forever Footprints event, sponsored by VIaSat. It celebrates the lives of babies that have died. The 5K Run, The Memorial Service, Walk and Celebration of Angels event will be held on Saturday, October 10, at The District at Tustin Legacy from 7 a.m. to 11 a.m.
Nearly 5,400 babies will die today in the United States, and one in four Orange County women will experience miscarriage, stillbirth, SIDS, pregnancy loss and infant death.
The event will begin with the 2nd Annual Forever Footprints 5K Run, followed by a Memorial Ceremony where babies' names will be read. Afterward, a sea of personalized posters, T-shirts with babies' photos and balloons will pave the streets as families connect with other families and walk in remembrance of the child or children each has lost. Music, food and celebration will welcome each of the families at the finish line during the Celebration of Angels, featuring participating District stores and restaurants.
Forever Footprints (OC Walk to Remember) is the only organization of its kind in Orange County. Money raised by Forever Footprints helps us support local hospitals and families and allows us to donate books, brochures, memory boxes, sibling backpacks and many other needed resources. The organization also has a local Support Group, The Balancing Life & Loss: Parenting After Loss Group which is a free support group that addresses the needs of bereaved parents who, after a tragic loss, need to continue living and parenting their surviving children. Forever Footprints also partners with UC Irvine Health Paloma Comfort Care Program, CHOC Children's Hospital and Kaiser Irvine. In addition, calls and emails for support are answered by a licensed clinical social worker.
"We will be streaming the Memorial Ceremony, parts of the Walk, and Celebration of Angels live from our website, www.foreverfootrprints.org, for those who are unable to attend the event", said Farnsworth. "People unable to attend the event, who live out of the area, can still Virtually Register from our website."
The OC Walk to Remember, a Forever Footprints event is sponsored by ViaSat, White Nelson Diehl Evans, CNI College, The District at Tustin Legacy, Creative Resources Technology Group, Pacifica Wealth Advisors, The Dot, Green & Hall, Fairhaven Memorial Services, Pacific Edge Hotel and Renegade Racing.
Over 3.500 people participated in the 2014 Walk, and more than 4,000 are expected this year. Past walkers have included: parents who lost a baby due to miscarriage just days before the walk, a mother who lost her son to SIDS over 30 years ago, and nurses who care for babies who die at birth.
The Walk and organization were cofounded by Orange resident Kristyn von Rotz, mother of Joseph Thomas von Rotz (who died at birth on July 8, 2004).
Join the Walk: Saturday, October 10
Location: The District at Tustin Legacy
Time: 7:00 a.m. 5K Run, 8:15 a.m. Remembrance Ceremony; 5K Walk directly following ceremony, Celebration of Angels following the Walk.
To sign up for the run or walk in advance: go to www.foreverfootprints.org or call: 800-714-9320.
Donations: Please send checks to Forever Footprints, 151 Kalmus Drive #L-4, Costa Mesa, CA 92626 or go to www.foreverfootprints.org.
For information on corporate donations or if you would like to volunteer for the Walk, please email: info@foreverfootprints.org.
Media Contacts: Sheri Gomez, Director of Operations, sgomez@foreverfootprints.org; Ryan Farnsworth, Executive Director, 657-212-6500, rfarnsworth@foreverfootprints.org