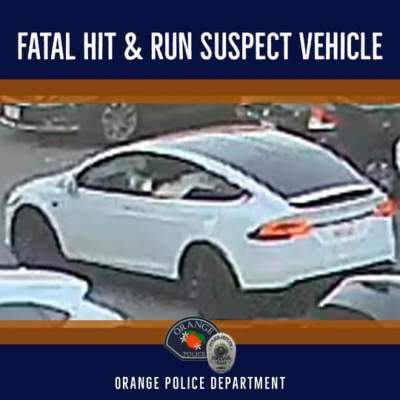 The Orange Police Department has released a picture of the car that was involved in a fatal hit and run accident involving a pedestrian, on January 15, 2021, near the Orange Outlets.
A 29-year-old male pedestrian from Tustin was crossing The City Drive South outside of the crosswalk between Justice Center Way and Outlets Drive on Jan. 15. An Acura traveling south hit the pedestrian. A second unknown white vehicle struck the pedestrian and fled the scene. The pedestrian was taken to a local hospital and pronounced deceased shortly after arrival.
The driver of the Acura remained on scene and drugs or alcohol do not appear to be a factor. The second white vehicle was last seen traveling south on The City Drive South.
OPD's Major Accident Investigation Team obtained a photograph of the white vehicle that fled the scene. Anyone with information can call Detectives at 714-744-7342.