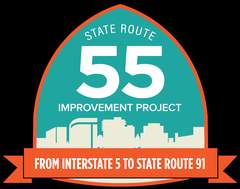 The SR-55 Improvement Project proposes to add one general purpose lane in each direction on SR-55 between I-5 and SR-22, and provide operational improvements at various locations along the corridor. The project goal is to improve mobility, reduce traffic congestion, increase freeway capacity and improve traffic operations. The project proposes to adds freeway capacity while staying within the existing freeway right-of-way and make ramp modifications.
The project will improve ramp capacity at various locations, including the 4th Street off-ramps and the SB Katella Avenue on- and off-ramps. In both instances, these improvements would reduce vehicle queues and improve intersection operations by adding an additional lane.
The project also proposes to relocate the Lincoln Avenue off-ramp next to the existing SB Lincoln Avenue on-ramp. Relocation is intended to address the short weaving distances between the SR-91 connector and the Lincoln Avenue off-ramp, which has resulted in traffic congestion and high accident rates.
The Draft Environmental Document (DED) is available for public review and community members will have an opportunity to review and provide their comments from September 30 to October, 30, 2019. Caltrans is accepting comments via email or by mail. For more information on the project, including locations where the DED is available for viewing, visit www.octa.net/SR55northdetails.
There are a number of ways for the community to stay informed about the project. Visit www.octa.net/sr55north or follow the project on Facebook.com/SR55north, Twitter @SR55Project, and Instagram @SR55Improvement.