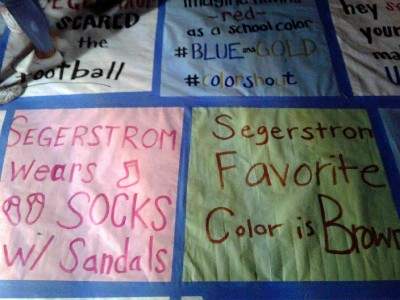 As we reported last night on our Facebook page, at 11:45 p.m., yet another episode of racism occurred at an SAUSD football game, which featured teams from Segerstrom High School versus Marina High School. The incident has blown up today and resulted in the release of a joint statement by the SAUSD and the Huntington Beach Union High School District:
JOINT STATEMENT FROM SANTA ANA UNIFIED SCHOOL DISTRICT BOARD PRESIDENT VALERIE AMEZCUA AND HUNTINGTON BEACH UNION HIGH SCHOOL DISTRICT BOARD PRESIDENT DR. DUANE DISHNO REGARDING OCT. 25, 2019 FOOTBALL GAME:
Last evening, an incident occurred during a football game between Segerstrom High School and Marina High School in which two student-generated signs with racial undertones were displayed near the entrance of the stadium and in front of the snack bar.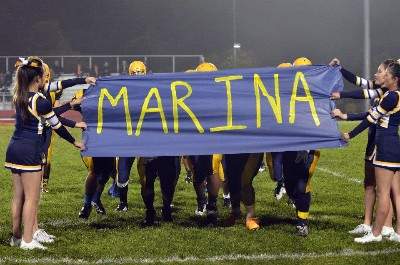 "Segerstrom students and parents saw the signs and received them as offensive.
"Santa Ana Unified School District (SAUSD) officials have shared their concerns with Huntington Beach Union High School District (HBUHSD) administrators regarding the incident, and are working together to resolve the issue and to use the unfortunate incident as a teachable moment for students.
"HBUHSD and Marina High School accept responsibility for the incident and apologize to the students, families and staff of Segerstrom High School.
"SAUSD and HBUHSD believe strongly in the principles of diversity and inclusion. Every student deserves to feel valued and respected. What happened Friday night was offensive and contrary to both districts' guiding principles – and for that, HBUHSD apologizes.
"The Marina High School Principal has also apologized and will be meeting with the Principal of Segerstrom High School to consider next steps in collaboration with Segerstrom through restorative circles to help strengthen relationships as well as provide diversity training for Marina's Associated Student Body and other student organizations.
"HBUHSD has reached out to the Orange County Human Relations Commission and to California Interscholastic Federation (CIF), to assist in working with Marina students to build greater understanding of why what occurred was wrong and how we can build and maintain a strong relationship based on mutual respect.
"The safety, along with the social-emotional and mental well-being of each and every one of our students, is of utmost importance to SAUSD.
"Santa Ana Unified will employ Restorative Practices to address the issue; staff will meet when school reconvenes Monday to converse with Segerstrom students who were impacted by the incident; and communicate with our parents and families our joint district plan to resolve the concern.
"Both districts want to assure students, parents, staff and community that both HBUHSD and SAUSD reject racism in any form in our schools and community and that it is never acceptable."
The OC Sports Zone reported that Marina won the game 25-14 to inch closer to its first league title since 1986.