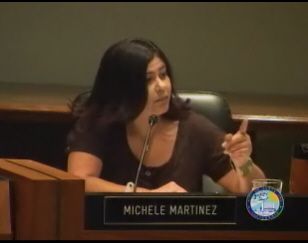 "Amid swirling rumors that members of the Santa Ana City Council majority have asked City Manager Paul Walters to resign by Friday, the city's chief bureaucrat declared Thursday that he plans to remain in the top slot for five to six years," according to Adam Elmahrek, over at the Voice of OC.
Now you might be wondering about those rumors – who exactly is spreading this B.S.?  Could it be the SAME Council Members who recently had a cow because Mayor Miguel Pulido allegedly acted as a community organizer by calling a few folks and asked them to show up at the last Santa Ana Council Meeting, in support of Walters?  
How ironic.  The lame Santa Ana Spring Council Members complain and whine when Pulido allegedly calls in support for Walters then they turn around and apparently shoot their mouths off to Elmahrek about Walters supposedly resigning.
It is really ironic for Council Member Michele Martinez to complain about this as she was overhead by a reporter last year while she was loudly yapping on a cell phone, while on a train, about money that a gambling tribe was going to spend on an independent expenditure in favor of her eventually failed campaign for the 69th Assembly District.  The tribe freaked out after they were outed, by Martinez, and she never got their help.  She went on to lose in embarrassing fashion in the June Open Primary election.
As for Walters, the fact is he has an airtight contract.  He is not going anywhere.  These elected buffoons are barking up the wrong tree, again.
And according to Elmahrek, the Council revolutionaries aren't returning his calls.   But Walters did, via the City's PIO.
Where is the Sunshine now?  Where is the transparency?  And why doesn't the City Council make the City Council meetings available anytime on the city website?  You have to view the meetings at set times.  Many other cities provide their streaming archived Council meeting videos on a 24 hour basis.  Why not Santa Ana?
I have said it before – this Council is not about change.  They are not about open government.  They are not for the people.  They are for themselves.  They are greedy whiners and if they keep up this war on Walters they are going to find themselves on the wrong end of a recall, in a city that previously recalled another greedy whiner – former SAUSD Trustee Nativo Lopez, who was of course an ally of Santa Ana Mayor Pro Tem Sal Tinajero, who survived that recall but may not survive another one!  Tinajero and Martinez are in fact up for reelection in two years.  They are rapidly losing face in our community.  What are they thinking?