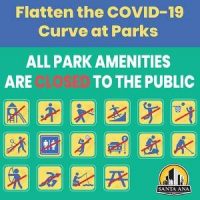 The City of Santa Ana is closing all park amenities beginning Friday, April 3, due to the crowds that continue to gather in violation of statewide health orders.
Many park facilities were already closed, and the new policy expands that to include restrooms, soccer fields, basketball courts, picnic areas and more. All Parks, Recreation and Community Services classes and programs have been canceled except for the frozen meals program at the Santa Ana Senior Center.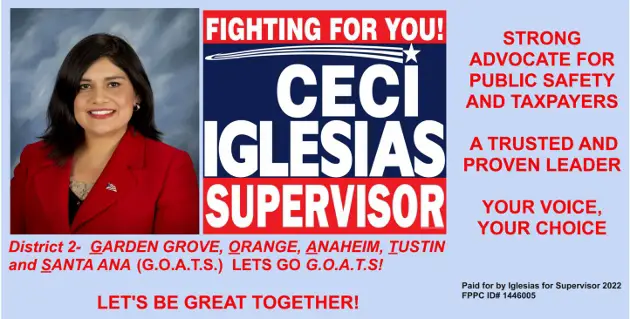 These actions were authorized by the City Council's Proclamation of Local Emergency last month to help prevent the spread of COVID-19 (coronavirus.)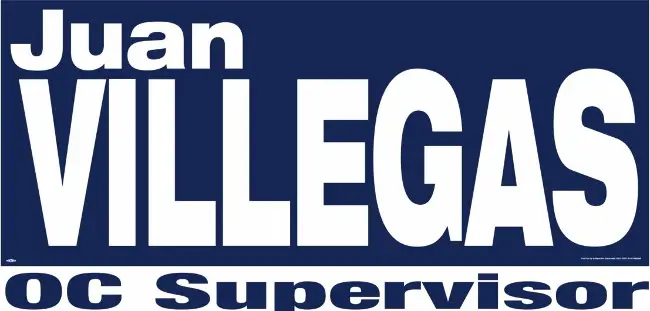 The following amenities will be closed until further notice:
• Playgrounds
• Soccer fields
• Restrooms
• Volleyball courts
• Tennis courts (including Cabrillo Tennis Center)
• Basketball courts
• Handball courts
• Community centers
• Skate parks
• Santa Ana Stadium
• Santa Ana Zoo
• Senior centers
• Parking lots
• River View Golf Course
• Exercise equipment areas
• Bleacher areas
• Baseball and softball fields
• Picnic areas and tables
• Fishing areas
• Archery range
• Lawn bowling greens
• Shuffleboard court
Santa Ana's outdoor, unenclosed park areas remain open to the public, but group sports and gatherings are prohibited, and people should stay at least 6 feet away from others.
California Gov. Gavin Newsom issued an executive order requiring non-essential businesses and services to close and residents to stay home except for essential activities.
###
For COVID-19 updates and resources from the City of Santa Ana, go to www.santa-ana.org/covid19; follow @CityofSantaAna on Facebook, Instagram and Twitter; sign up to receive email and text alerts at Nixle.com; download the mySantaAna app; and join Nextdoor.com to connect with neighbors and get City news.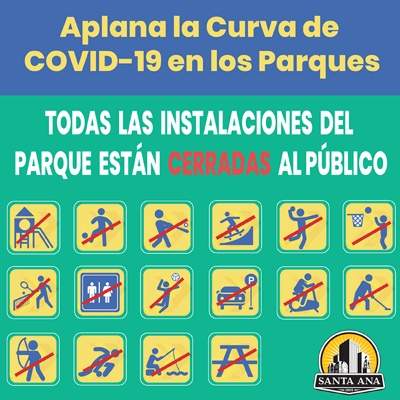 La Ciudad de Santa Ana Cierra Todas las Instalaciones de los Parques para Evitar Reuniones
La Ciudad de Santa Ana está cerrando todas las instalaciones de los parques a partir del viernes 3 de abril, debido a las multitudes que continúan reuniéndose en violación de las órdenes de salud estatales.
Muchas instalaciones de los parques ya estaban cerradas, y la nueva política amplía eso para incluir los baños públicos, campos de fútbol, las canchas de baloncesto, áreas de picnic y más. Todas las clases y programas de Parques, Recreación y Servicios Comunitarios han sido cancelados, excepto el programa de comidas congeladas en el Centro para Personas Mayores de Santa Ana (Santa Ana Senior Center).
Estas acciones fueron autorizadas por la Proclamación de Emergencia Local del Ayuntamiento el mes pasado para ayudar a prevenir la propagación del COVID-19 (coronavirus).
Las siguientes instalaciones permanecerán cerradas hasta nuevo aviso:
• Parques infantiles
• Campos de fútbol
• Baños públicos
• Canchas de voleibol
• Canchas de tenis (incluido el centro de tenis Cabrillo)
• Canchas de baloncesto
• Canchas de balonmano
• Centros comunitarios
• Parques de patinaje
• Estadio de Santa Ana
• Zoológico de Santa Ana
• Centros para personas mayores
• Estacionamientos
• Campo de golf River View
• Áreas de equipos de ejercicio
• Áreas de gradas
• Campos de béisbol y softbol
• Áreas y mesas de picnic
• Zonas de pesca
• Rango de arquería
• Campos de bolos de césped
• Cancha de tejo
Las áreas de los parques de Santa Ana al aire libre y no cerradas permanecen abiertas al público, pero los deportes grupales y las reuniones están prohibidos, y las personas deben mantenerse al menos a 6 pies de distancia de los demás.
El gobernador de California, Gavin Newsom, emitió una orden ejecutiva que requiere que los negocios y servicios no esenciales cierren y que los residentes se queden en casa, excepto para las actividades esenciales.
###
Para actualizaciones y recursos de COVID-19 de la Ciudad de Santa Ana, visite www.santa-ana.org/covid19; siga @CityofSantaAna en Facebook, Instagram y Twitter; inscríbase en Nixle.com para recibir alertas por texto y correo electrónico; baja el app mySantaAna; y únase a Nextdoor.com para conectar con vecinos y recibir noticias de la Ciudad.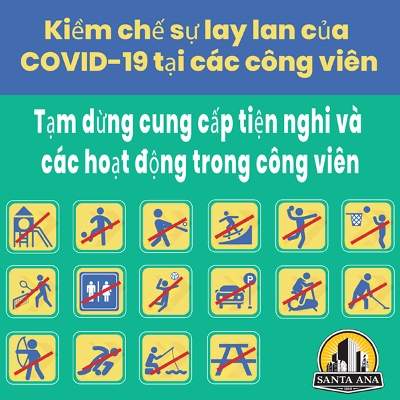 Thành phố Santa Ana đóng cửa tất cả các tiện ích trong công viên để tránh tụ tập
Thành phố Santa Ana sẽ đóng cửa tất cả các tiện ích trong các công viên bắt đầu từ Thứ Sáu, ngày ba tháng Tư vì người dân vẫn tiếp tục tụ tập trong thời gian qua, dẫn đến việc vi phạm lệnh giãn cách xã hội trên toàn tiểu bang.
Nhiều công trình phục vụ người dân trong công viên đã được đóng cửa. Tuy nhiên, quy định mới mở rộng đến việc đóng cửa các nhà vệ sinh, sân bóng đá, sân bóng rổ, các khu dã ngoại và các tiện ích khác. Tất cả các công viên, các lớp học và chương trình mang mục đích giải trí và phục vụ cộng đồng cũng bị hủy, ngoại trừ chương trình phát bữa ăn tại Trung tâm giành cho người cao niên của thành phố Santa Ana (Santa Ana Senior Center)
Những hành động quyết liệt này đã được Tuyên bố khẩn cấp của Hội đồng thành phố vào tháng trước cho phép, để giúp ngăn chặn sự lây lan của COVID-19 (coronavirus.)
Các tiện ích sau đây sẽ bị đóng cửa cho đến khi có thông báo mới:
• Sân chơi cho trẻ em
• Sân đá bóng
• Nhà vệ sinh
• Sân bóng chuyền
• Sân tennis (bao gồm Trung tâm tennis Cabrillo)
• Sân bóng rổ
• Sân bóng ném
• Trung tâm sinh hoạt cộng đồng
• Sân chơi trượt ván
• Sân vận động Santa Ana
• Sở thú Santa Ana
• Trung tâm sinh hoạt của người cao niên
• Bãi đậu xe
• Sân Golf river view
• Khu vực có thiết bị tập thể dục
• Khu vực ghế ngồi trên khán đài
• Sân Bóng chày
• Khu vực dã ngoại và bàn ăn
• Khu vực câu cá
• Khu vực bắn cung
• Sân cỏ chơi bóng gỗ
• Sân chơi Shuffleboard
Các khu công viên ngoài trời Santa Ana vẫn mở cửa phục vụ công chúng, nhưng các môn thể thao nhóm và các hình thức tụ họp đều bị cấm, và mỗi người nên giữ khoảng cách ít nhất là 6 feet (khoảng 1.8m) từ những người khác.
Thống đốc tiểu bang California Gavin Newsom đã ban hành sắc lệnh yêu cầu các doanh nghiệp cung cấp các dịch vụ không thiết yếu đóng cửa và người dân ở trong nhà, chỉ đi ra ngoài khi cấp thiết.
###
Để cập nhật các thông tin có liên quan đến đại dịch COVID-19 từ các thành phố Santa Ana, truy cập www.santa-ana.org/covid19; theo dõi @CityofSantaAna trên Facebook, Instagram và Twitter; đăng ký để nhận email và thông báo tại Nixle.com; Tải ứng dụng mySantaAna; và tham gia Nextdoor.com để kết nối với hàng xóm và nhận tin tức từ thành phố.