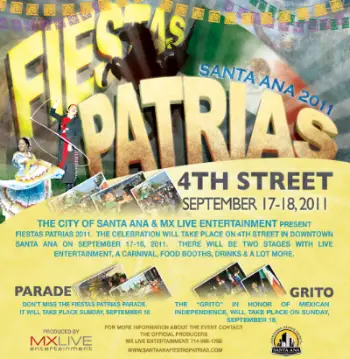 FOR IMMEDIATE RELEASE CONTACT: Jeannie G. Jurado, City of Santa Ana, (714) 571-4251
SANTA ANA'S 33rd ANNUAL FIESTAS PATRIAS – The City of Santa Ana & MX LIVE Entertainment invite you to come and celebrate the 33rd annual Fiestas Patrias & Mariachi Festival in Historic Downtown Santa Ana on Saturday, September 17th and Sunday, September 18th from 12 noon to 10 pm.
Join us as we commemorate Mexico's independence from Spanish rule. This is the biggest and most anticipated Fiestas Patrias celebration in Southern California with over 250,000 people in attendance! The free festival features great food, carnival rides and games, Latin Grammy and Billboard artist performances, community entertainment and more.
As part of the Fiestas, we present our inaugural "¡Viva El Mariachi!" festival on Sunday, September 18th, which promises to bring some of the finest Mariachis and most exciting Ballet Folklorico dancers in the world. The addition of "¡Viva El Mariachi!" is sure to add to the festival's prestige!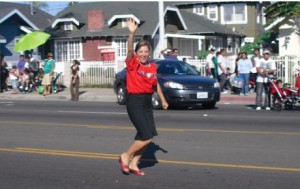 A highlight of the event is the 11th annual Fiestas Patrias Parade which will take place on Sunday, September 18, 2011 beginning at 4:00 pm on the corner of Main St. and Fifteenth with a theme of "State of My Heart."
The parade will proceed south on Main St.; west on Civic Center Dr.; and will disband on Flower St. near the Santa Ana Stadium. Over 50,000 people will line Main Street to view the approximately 100 parade units, the largest parade of its kind in Orange County.
For more information please contact the parade committee at (714) 571-4230.
If you would like more information about the events, contact Community Services Supervisor Jeannie G. Jurado of Santa Ana Parks, Recreation & Community Services Agency at (714) 571-4251.
Santa Ana is hosting three major Fiestas Patrias events throughout the month.
The Fiestas Patrias Film Festival runs September 3-18 and features documentaries, dramas, and classic motion pictures. Admission is free! For a full screening schedule, please visit ocfilmfiesta.org.
On September 17-18 (en español), the annual Fiestas Patrias Street Fair promises food, shopping, and live music entertainment. Top performers to be announced soon!
Link to Downtown Fiestas Patrias Street Fair area