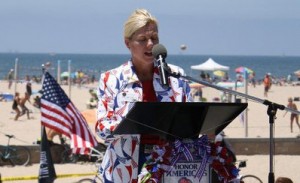 FOR IMMEDIATE RELEASE: September 13, 2011
Contact: Howard Sutter, 714.834.6203
Orange County Treasurer-Tax Collector to Serve as President Elect of National Organization
(Santa Ana, CA) — Orange County's Treasurer-Tax Collector, Shari Freidenrich, was installed as the 2011-12 President Elect of the Association of Public Treasurers of the United States and Canada during the group's annual conference in Oklahoma City, Oklahoma.
The Association of Public Treasurers of the United States was founded in 1965 and represents public treasury and finance officials in local, county, and state/provincial governments throughout North America. Their mission is to provide quality treasury management education and training, professional certification, peer interaction, and professional connection opportunities for public treasury and financial officials.
Ms. Freidenrich was elected Treasurer-Tax Collector of the County of Orange in November 2010 and took office in January 2011. She had previously served as Treasurer for the City of Huntington Beach since 1996. Shari is a leader in the municipal treasury field and has been active on a local and statewide basis including serving as the President of the California Municipal Treasurer's Association (CMTA) in 2003-2004 and also as the Southern California Division Chair for CMTA.
In the private sector, she was the Controller for McDonnell Douglas Travel Company and was a manager with Deloitte and Touche.
Shari Freidenrich is a Certified Public Accountant who received her Bachelor's Degree in Administration with an emphasis in Accounting from Washington State University. She is also a Certified Public Finance Administrator (CPFA).
# # #