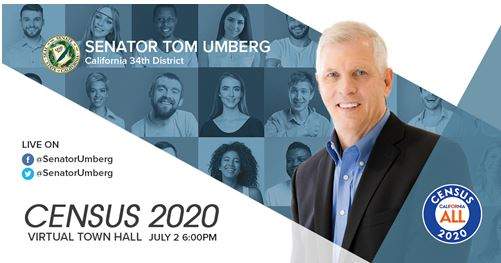 The Office of Senator Thomas J. Umberg is hosting a Virtual Town Hall regarding the 2020 Census at 6 p.m. on Thursday, July 2.
A panel of guests will join Senator Umberg to address the specific challenges facing the 2020 census in Orange County and throughout California during the COVID-19 pandemic.
View the 2020 Census Video Town Hall, follow Senator Thomas J. Umberg on Facebook. RSVP.
Panelists will include:
Bertha Benavidas, MEd. – Principal, Williard Intermediate, Santa Ana Unified School District
Maria Stipe – Assistant City Manager, City of Garden Grove
TC Roady – Director of Regulatory Affairs & Compliance, CalOptima
Angela Kim – 2020 Census Ambassador, CA Complete Count
Please submit any questions you may have before the Virtual Town Hall to senator.umberg@senate.ca.gov.