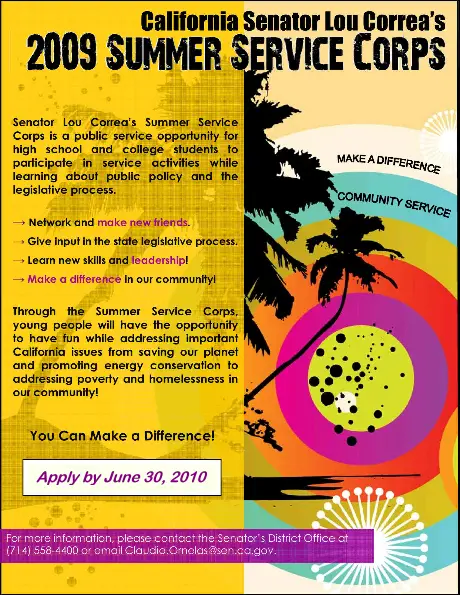 State Senator Lou Correa is sponsoring a Summer Service Corps as a public service opportunity for high school and college students to participate in service activities while learning about public policy and the legislative process.
This program offers students exposure to diverse cultures and traditions, networking opportunities, and legislative seminars focused on important California issues from saving our planet and healthy living to addressing poverty and workforce development.
Qualifications: The Program will run from July – September 2010. To apply, the student must be in high school or college and live in the 34th Senate District. Transportation is required, and students must have an interest in public service.
Email Julie.Nguyen@sen.ca.gov to request an application. The deadline to submit a Summer Service Corps application is June 30, 2010.
If you or anyone you know is interested in participating in Senator Correa's Summer Service Corps program, please pass along the information or contact Julie Nguyen or Meredith Vivian at (714) 558-4400.
Click here to RSVP on Facebook.