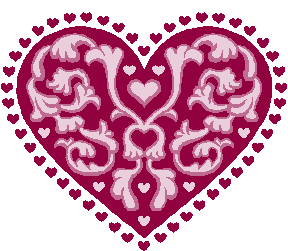 Click here to read about the 2011 Valentine's Day Restaurant Specials, in Santa Ana.
You can spend a vintage Valentine's Day with the Santa Ana Historical Preservation Society
Are you trying to figure out what to do this Valentine's Day? There is a lot going on in Santa Ana. Here are just a few of your choices:
Santa Ana Historical Society. Bring your sweetheart to a special celebration of Valentine's Day at the Dr Willella Howe-Waffle house on Saturday, February 6 from noon to 4:00. Included with your tour of this 1889 Victorian gem is a display of exquisite vintage valentines, delicious tea and valentine sweets, and a reproduction of a vintage valentine card to take home.  Learn about the history of Valentine's Day, and as a special treat, enjoy a performance by "Marryin' Judge" Cox (actor John Erratt), who enlightens us about law and love in Santa Ana of the early 1900s. Adults $5, Seniors and Members $4, Students K-12 $3.
Timeless Melodies, at the Bowers Museum.  Special Valentine's Day music and lecture program presented by Larry Maurer, educator and music historian. Fee: Members $7 / General $10.  Feb. 18, at 1:30 pm.  Click here for more info.
O.C. Clerk Recorder's Office.  Want to get married?  Couples planning Valentine's Day vows won't have to trek to Las Vegas this year to tie the knot. To accommodate couples, Orange County Clerk-Recorder Tom Daly will open his Fullerton office for wedding ceremonies on Valentine's Day even though it falls on a Sunday when the office normally is closed.
Santa Ana Zoo.  Give your sweetheart the Santa Ana Zoo Valentine's Day Family Membership Gift Bag this year! Contains a full 1 yr. Family membership, SAZOO monkey plush and lots more! On Sale now through Valentine's Day.  Click here for more info.
And here are the best dining and entertainment choices for Valentine's Day, in and around Santa Ana: Continue reading→