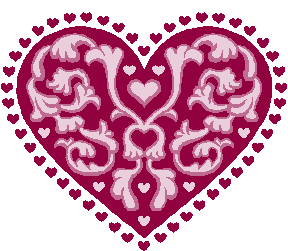 Click here to read about the 2011 Valentine's Day Restaurant Specials, in Santa Ana.
You can spend a vintage Valentine's Day with the Santa Ana Historical Preservation Society

Are you trying to figure out what to do this Valentine's Day? There is a lot going on in Santa Ana. Here are just a few of your choices:
Santa Ana Historical Society. Bring your sweetheart to a special celebration of Valentine's Day at the Dr Willella Howe-Waffle house on Saturday, February 6 from noon to 4:00. Included with your tour of this 1889 Victorian gem is a display of exquisite vintage valentines, delicious tea and valentine sweets, and a reproduction of a vintage valentine card to take home.  Learn about the history of Valentine's Day, and as a special treat, enjoy a performance by "Marryin' Judge" Cox (actor John Erratt), who enlightens us about law and love in Santa Ana of the early 1900s. Adults $5, Seniors and Members $4, Students K-12 $3.
Timeless Melodies, at the Bowers Museum.  Special Valentine's Day music and lecture program presented by Larry Maurer, educator and music historian. Fee: Members $7 / General $10.  Feb. 18, at 1:30 pm.  Click here for more info.
O.C. Clerk Recorder's Office.  Want to get married?  Couples planning Valentine's Day vows won't have to trek to Las Vegas this year to tie the knot. To accommodate couples, Orange County Clerk-Recorder Tom Daly will open his Fullerton office for wedding ceremonies on Valentine's Day even though it falls on a Sunday when the office normally is closed.
Santa Ana Zoo.  Give your sweetheart the Santa Ana Zoo Valentine's Day Family Membership Gift Bag this year! Contains a full 1 yr. Family membership, SAZOO monkey plush and lots more! On Sale now through Valentine's Day.  Click here for more info.
And here are the best dining and entertainment choices for Valentine's Day, in and around Santa Ana:
Tierra Valentines' Day Show, at the Galaxy Concert Theatre, on Feb. 14.  Doors open at 6 pm.  Show stats at 8 pm. Price: $20.00 or $40.00 for a dinner ticket.  Tierra is the band named "Best R&B Vocal Group" by four leading magazines including Billboard. They started their career in East Los Angeles with a blend of rock, pop, jazz, R&B and salsa. The result was a Latin R&B rhythm which produced classics like "Together", "Gonna Find Her", "Memories" and "Zoot Suit Boogie". Click here for more info.
Geisha House has announced their Valentine's Day menu.  The meal features several fantastic courses, at a low cost of only $45 per person, including:
Conversation Starters: Miso Soup and Edamame
First Course, Served Family Style: Spicy Rock Shrimp Tempura and Albacore Carpaccio
Second Course, Served Family Style: Hollywood Roll, OC Sunfire.  Note: A vegetarian roll may be substituted for one of the above rolls.
Main Course, choice of one per guest:
Ginger Black Cod, wrapped in a banana leaf
Okinawa Maple Glazed Short Ribs
Grilled Mongolian Lamb Chops
Happy Endings, Served Family Style: Strawberry dessert roll, with Toasted Almonds White Chocolate Mirin Creme Brulee.
Santa Ana's Geisha House is located at the CityPlace, at 2773 N. Main St.  Click here to make your reservation.
McCormick & Schmick's has announced their Valentine's Day menu – and it looks like a great deal.  For $29.95 you get your choice of soup or mixed salad; filet mignon or lobster tail; and a crab cake or grilled fillet of salmon, or skewers of shrimp, plus seasonal vegetables.
The special will be good for the entire weekend, from February 12 to 14.
You can reserve your table at this link.  McCormick & Schmick's is located at 2791 North Main Street, at the CityPlace, in Santa Ana, across from the MainPlace Mall.
The Memphis at the Santora has announced their Valentine's Weekend menu.
Enjoy Diego's Chef's Menu with Wine Pairings, or enjoy your favorites from Memphis' regular Menu.  For $59 you will get your choice of:
Champagne and Blue Corn Oyster Beignet, with a chipotle-tomato mignonette, or Barbecued Shrimp, with scallion johnny cakes, maple syrup, and apple wood smoked bacon; paired with NV Gruet Sparkling Rose, from New Mexico
Braised Pork Shank, with sweet potato mash, sauteed chard, and a guiness stout reduction, or Grilled Vintage Natural Coulotte Steak, with balsamic cippolini onions, chanterelle-pinot noir  reduction; paired with 2006 David Bynum Pinot Noir, from the Russian River
and, Belgian Chocolate and Raspberry Pot Pie, with vanilla bean ice cream, or Sweet Corn Souffle, with popcorn and agave nectar, paired with 2006 Marcato recioto di soave, from Italy
Make your reservations today by calling 714.564.1064, or by clicking here.  Memphis at the Santora is located at  201 N Broadway, in downtown Santa Ana.
Valentine's Day Dinner at Ambrosia Restaurant, in Santa Ana.  In honor of Valentines Day, Ambrosia Restaurant at the OC Pavilion is serving a special five course dinner. In between courses, enjoy the ambiance of candlelight with the sounds of romantic jazz to slow dance the night away! Please call for more details or click here.
Valentine's Day Dinner at Tangata, at the Bowers Museum, in Santa Ana.  Enjoy a romantic Valentine's Day dinner at Tangata Restaurant with a special three or four course prix dinner with champagne, chocolates and music. Reservations required.  Click here for more info.
Four Course Elegant Valentine's Day Dinner, at Bistro 400, at 400 W. 4th St., in downtown Santa Ana.  Dinner includes a champagne toast and live music.  Click here for more info.  Click here for directions.
Steak or Seafood Valentine's Day Dinner at Mortons.  Special occasions deserve a special night out. Morton's sets the stage with generous portions of USDA prime-aged beef or succulent seafood and classic steakhouse sides.  Top it all off with decadent desserts…perfect for sharing with your Valentine.  View our full dinner menu …or take advantage or our limited-time special menus, including Morton's Classic Menu for $79 per guest* or Morton's Signature Three-Course Menu, only $99.99 for two*!  Located at South Coast Plaza Village, at 1641 W. Sunflower Ave., in Santa Ana.  Click here for more info.
Indian Valentine's Day Dinner at Royal Khyber.  This prix fixe Indian meal includes champagne, your choice of a chicken, salmon or lamb entree, and pistachio ice cream for dessert. $33 per person.  Click here for more info.  Located at 1621 W Sunflower Ave, in Santa Ana.
Persian Valentine's Day Dinner at Darya Restaurant. If authentic Persian fare appeals, spend Valentines at Darya among the lavish decorations and ornate marble columns. The menu they offer features three courses and is $59.95 per person. Live music. Located at 1611 W Sunflower Ave, in Santa Ana.  Click here for more info.
Valentine's Day Dinner and Dancing at the Orange County Mining Co., not in Santa Ana but nearby in Orange.  Orange County Mining Co. is celebrating Valentine's Day this year in style with dancing and a special prix fixe couples menu. The appetizer includes shrimp cocktail for two caesar salad, freshly baked rolls, and a glass of champagne, merlot or chardonnay. The main course includes petite filet and lobster, or if seafood is not your cup of tea, chicken breast, followed by a decadent chocolate heart cake for two for desert.  Click here for more info.
Valentine's Day Dinner, at Zov's Bistro, not in Santa Ana, but nearby in Tustin.  Enjoy a special Valentine's Day menu featuring various starters ($11.95-$16.95)like roasted artichoke fondue, dungeness crab borek or grilled lamb lollipops. Entrees available ($25.95-$37.95) include: Prime beef tenderloin, seafood pot pie, salmon nicoise, roasted rack of lamb, pork tenderloin and grilled halibut.  Click here for more info.
Cabaret Concert – Songs from the Heart, Saturday, Feb 13, from 6:00 pm to 9:15 pm, at Red Hill Lutheran Church and School, in Tustin.
Celebrate Valentine's Day with a romantic night on the town. Enjoy a gourmet dinner and concert Sat, 2/13, 6 pm at Red Hill Lutheran Church, 13200 Red Hill, Tustin. James Martin Schaefer will sing classic songs of love from Mercer to Mancini with Dr. Siebenaler at the piano. Schaefer has an active career including appearances as soloist with the LA Philharmonic, Hollywood Bowl, Pacific Symphony, Boston Pops, Pacific Choral, and Opera Pacific.  Click here for more info.