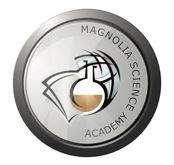 October 13, 2016
Contact: Molly O'Brien, Larson Communications, (703) 863 – 8773
MAGNOLIA PUBLIC SCHOOLS CELEBRATES OPENING OF FIRST STEAM-FOCUSED K-12 PUBLIC SCHOOL IN SANTA ANA
Demand for the new school far exceeded original projection and rising enrollment numbers reveal high-demand for STEAM-based school in region
Santa Ana – Parents, students, teachers, Orange County Supervisor Andrew Do and the greater Santa Ana community will come together Friday, Oct. 14, 2016 in a ribbon-cutting ceremony for the new Magnolia Science Academy (MSA) Santa Ana campus—a state-of-the-art facility funded by $17.4 million from the State of California. About 645 students have enrolled in the first K-12 STEAM-focused public school in Santa Ana—115 students more than original expectations—and there is also a waiting list. The Santa Ana campus is one of the 10 schools in the high-performing Magnolia Public Schools network in Southern California.
"We are thrilled to open this incredible facility and continue to grow as an integral part of the Santa Ana region. The numbers speak for themselves and clearly demonstrate this community is excited about the opportunities MSA Santa Ana provides," Magnolia CEO Caprice Young said. "We would not be able to offer over 600 children a high-quality, STEAM-focused education without the support from the state of California, whose financial investment was a vote of confidence in Magnolia's educational program."
MSA Santa Ana serves a majority low-income and Latino student population and had been operating out of a church since opening six years ago. The state-of-the-art campus offers technologically advanced science, robotics and computer labs and will allow the school to expand its successful STEAM program to grow to 1,020 students in grades K-12 by 2018.
MSA Santa Ana has built an established record of success: 73 percent of Magnolia's students met and exceeded the standards in EL (compared to 28 percent at Santa Ana Unified) and 46 percent in math (compared to 23 percent in Santa Ana Unified).
"My children are thriving at MSA-Santa Ana," said Jennifer Gleason, parent of both a ninth and sixth grade student. "I am thrilled more families have the opportunity to become part of our school community due to the expansion this new facility provides. The faculty promote a college-preparatory environment with individualized attention and commitment to success for every student. The expansion also offers more after-school clubs and 'STEAM' opportunities that our boys enjoy."
The state of California funded the $17.4 million for the facility, which breaks down to half of the funding coming through a grant through Proposition 1D, which provides bond funding for educational facilities, while the remainder is through a 30-year loan. The new facility is located at 2840 W. 1st St. in Santa Ana.
About Magnolia Public Schools
Magnolia Public Schools is a high-performing network of 10 public charter schools in Los Angeles, San Diego and Orange counties that provides a college preparatory educational program emphasizing science, technology, engineering, arts and math (STEAM). Magnolia's mission is to prepare students to succeed in college through a rigorous academic program while reinforcing core values through character development classes that cultivate respect for self and others. Magnolia's vision is to create scientific thinkers who contribute to the global community as socially responsible and educated members of society. www.magnoliapublicschools.org.