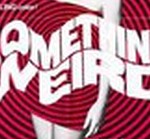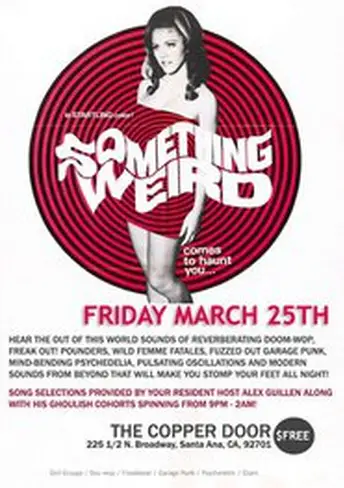 Something Weird is coming to Santa Ana's hippest bar, the Copper Door, this Friday night, March 25…
COME HEAR THE OUT OF THIS WORLD SOUNDS OF REVERBERATING DOOM-WOP, FREAK OUT! POUNDERS, WILD FEMME FATALES, FUZZED OUT GARAGE PUNK, MIND-BENDING PSYCHEDELIA, PULSATING OSCILLATIONS AND MODERN SOUNDS FROM BEYOND THAT WILL MAKE YOU STOMP YOUR FEET ALL NIGHT LONG!
SONG SELECTIONS PROVIDED BY YOUR RESIDENT GHOST ALEX GUILLEN ALONG WITH HIS GHOULISH COHORTS SPINNING FROM 9PM – 2AM!
SPECIAL GUEST DJs:
DEADMAN (Ex-SexConsciousYoungModerns!)
Le Corbeau (Ex-SexConsciousYoungModerns/Ex-Deathday Party)
@ THE COPPER DOOR
225 1/2 N. Broadway
Santa Ana, CA, 92701
FREE ADMISSION!  AND THE BEST BEERS IN TOWN!
Time: Tomorrow at 9:00pm – Saturday at 2:00am