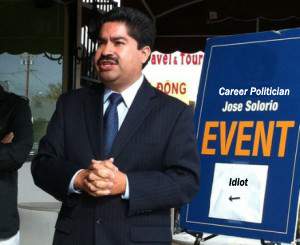 State Assemblymember emeritus and now Rancho Santiago Community College District (RSCCD) Trustee, Jose Solorio announced his candidacy for the 34th Senate District a little over a month after being sworn in.
This means that Solorio had no intention of finishing his term, but he still ran for the position. A month into the position, and he is already planning to jump ship.  
Everyone should feel crestfallen, moreover betrayed by this sleazy career politician move.  Will he give the needed attention to his current elected position in the meanwhile? Doubt it! He'll probably be more concerned about raising the funds for his 34th District race.
Should Solorio should first finish his current 4-year RSCCD term first – before he runs for some other office?  Or should he do us all a favor and resign now, so as to let someone serve who actually wants to serve for four years?
Say what you will about Santa Ana City Council Member Roman Reyna, but at least he finished his only four year term on the SAUSD School Board before he moved on to the City Council.  I believe Mayor Pro Tem Sal Tinajero did the same thing before he too ran for the City Council.
And now that I think about it, didn't Solorio leave the City Council halfway through his last Council term?  He couldn't be bothered to finish that term either.