VICTIMS OF SEXUAL ASSAULT TO BENEFIT FROM ENGLISH AND SPANISH PRODUCTIONS OF THE VAGINA MONOLOGUES
Volunteer-Driven Fundraiser to Benefit Nonprofit Community Service Programs' Sexual Assault Victim Services' (SAVS) Prevention and Education Programming and Victims' Emergency Fund
Volunteers of nonprofit Community Service Programs (CSP) are spearheading the 3rd annual production of The Vagina Monologues to benefit CSP's Sexual Assault Victim Services (SAVS), which helps Orange County victims of sexual assault and abuse find their voice and overcome the hardships they've encountered. Funds will benefit CSP SAVS' rape crisis center, prevention and education programming, which offers programs in conjunction with schools, colleges, and community groups to educate, empower and lead to reduction in the incidence of sexual assault, as well as funding for CSP SAVS victims' emergency fund that directly supports victims and helps with relocation, housing, utilities, food, transportation and more.
The Vagina Monologues celebrates the strength and experiences of women and gives a voice to ending violence against women and girls. V-Day is a global activist movement to end violence against women through benefit productions of playwright and founder Eve Ensler's award-winning play. This production will be held in English and Spanish with a combined 41 cast members and consists of about 20 different monologues covering topics from childbirth and menstruation to consensual sex and rape.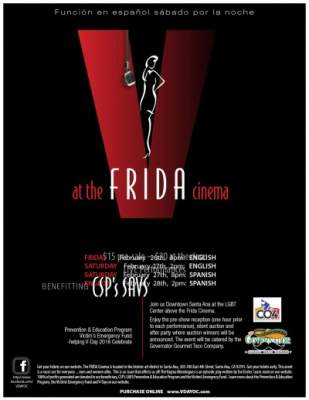 After the success of last year's pilot Spanish performance, organizers have added a second performance in Spanish to the 2016 lineup. Run by CSP volunteers, the 2015 performances raised more than $10,000 and the 2014 performances raised nearly $8,000 for CSP SAVS.
With no budget, co-directors Jessica DeSalva, of Costa Mesa, and Sheila Bates, of Long Beach, coordinate the play entirely, including holding auditions and generating the cast, hosting rehearsals, set up, securing donations, and more. DeSalva estimates donating more than 500 hours as the director and co-director of the production since 2014. Separately, she has been a volunteer sexual assault counselor for four years with CSP SAVS. Bates, who works with women and children as an educator and advocate, interned with CSP SAVS, and has now been a volunteer for over three years.
Attendees can enjoy a pre-show reception with silent auction one hour prior to each performance at the LGBT Center on 4th, including gourmet tacos donated by by El Governador Gourmet Taco Company. In addition, Purpose Jewelry will have items available for purchase at all performances with proceeds benefiting International Sanctuary, a nonprofit that provides holistic care for young women rescued from sex trafficking.
Pre-sale tickets are $15 each, and tickets at the door are $20. For more information, to purchase tickets, or to donate, visit http://vdayoc.com.
WHEN: Friday, February 26, 2016 at 8 p.m. in English
Saturday, February 27, 2016 at 2 p.m. in English
Saturday, February 27, 2016 at 8 p.m. in Spanish
Sunday, February 28, 2016 at 2 p.m. in Spanish
WHERE: The Frida Cinema, 305 East 4th Street, Santa Ana, Calif.
For over 30 years, nonprofit Community Service Programs (CSP) has helped Orange County victims of sexual assault and abuse. The life-changing services offered to these victims through CSP Sexual Assault Victim Services (SAVS) include a 24-hour response line, one-on-one peer counseling, support groups, extensive education programs (also offered to colleges and universities) and a primary prevention focus working with men's groups. CSP is dedicated to bringing sexual assault and rape crisis services to those who have experienced sexual assault or are at-risk of being victimized. Orange County has an unfortunate large number of rape victims, with between 1,600 to 1,800 rape victims served by CSP Sexual Assault Victim Services each year.
The Vagina Monologues spread awareness for sexual violence and assault, and this volunteer-driven production will raise funds for the services available to victims through CSP SAVS including for its prevention and education programming and victims' emergency fund.
To learn more about CSP SAVS, visit www.cspinc.org/Sexual Assault.
About Community Service Programs
Community Service Programs (CSP) is a nonprofit agency committed to serving children, adults and families living in Orange County who are involved with or at-risk of involvement with the justice system. CSP's model programs assist over 111,000 community members annually, including abused children, struggling families, acting out adolescents, victims of crime, and those in need of mediation services. For more information on CSP and its programs, visit http://www.cspinc.org/.
###