City of Santa Ana
Community Alert: Community Emergency Response Team (CERT) Training Starts Next Saturday
In the event of a major disaster or a more common emergency, learn how to care for yourself, your family and your neighbors until help arrives.
Community Emergency Response Team (CERT) Training will be conducted on Saturday, February 20 and Saturday February 27, 9AM to 5PM and Saturday, March 5, 9AM to 12PM (must attend all 3), at the Centennial Park Public Safety Training Center (3006 Centennial Road, behind Godinez High School).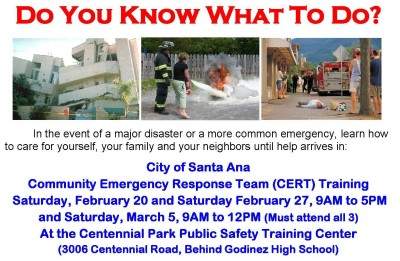 CERT's goal is to provide residents with information and skills to sustain themselves and to assist others when emergency responders can't respond or until help can arrive. The course is open to all adult residents of Santa Ana, and to teenagers attending with a parent, who can attend all 3 days of the program. Class size is limited!
The course is free and participants will learn:
Earthquake Preparedness and Disaster Plans
Fire Safety and Fire Extinguishers
Light Search and Rescue
Emergency Medical Care
And more!
Presented by: The City of Santa Ana, Santa Ana Police Department, Orange County Fire Authority, and the Orange County American Red Cross.