Samuel Elijah Alvarez, an 18-year-old man wanted in connection with the beating of a 72-year-old grandfather with a baseball bat, walked into the Santa Ana Police Department's lobby and surrendered on Thursday, according to the SAPD.
The SAPd is investigating this crime as an attempted homicide.
Alvarez showed up at the SAPD's lobby with his lawyer when he turned himself in, just after 2 p.m. today.
Apparently Alvarez was tight-lipped when he turned himself in – which was probably on the advice of his lawyer.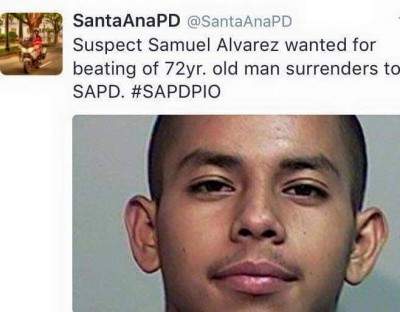 Alvarez landed in this hot water when he got into a fight with Jose Chacon, a 72-year-0ld Santa Ana grandfather, at a 76 gas station at the 4500 block of Westminster Ave.
Alvarez beat Chacon with an aluminum bat that he had in his car. The assault was caught on the gas station's video surveillance system.
Alvarez struck Chacon a number of times, causing facial fractures and other serious injuries. The assault only ended after Chacon was knocked to the ground.
Amazingly this all happened because Chacon stumbled into Alvarez's car. Old people often have issues with balance. It is a shame that Chacon stumbled into a maniac's car.