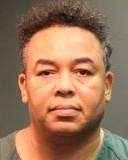 Santa Ana Police Department
Advisory: SAPD Arrests Segerstrom High School Coach For Inappropriate Sexual Relationship With Student/Athlete
Arrested: Tracey Stephan Fulford, (52) Santa Ana
On 7/08/17, at about 10:30pm, a 19-year old female victim came to the Santa Ana Police Department accompanied by her parents. She reported to officers that while she was 16 years old and a student at Segerstrom High School, she became involved in an inappropriate relationship with her male basketball coach, who she identified as 52-year old Tracey Stephan Fulford of Santa Ana. The victim reported that during private basketball lessons she willingly followed Fulford into a storage room and other locations in the school gymnasium and they would engage in inappropriate sexual acts. The relationship continued past her 18th birthday at which time they engaged in consensual sex away from the school.
The victim advised officers that on 7/07/17, she met with school coaching staff to report the inappropriate sexual relationship with Fulford when she was a student at the school. The victim stated she believes staff made attempts to discourage her from speaking out about the sexual relationship and that is why she reported the crime to the SAPD. Detectives will work with the Santa Ana Unified School District and their Police Department to investigate any allegations of staff, failing to complete mandated reporting of the incident to police or the school administrators.
On 7/9/2017, officers responded to Fulford's Santa Ana residence where he rents a room. The owner of the residence stated Fulford was working in Irvine. Officers responded to the suspect's place of employment where they arrested him without incident. Fulford was transported to the Santa Ana Police Department where he was interviewed reference the allegations against him. Based on the information officers obtained during their investigation and incriminating statements made by the suspect, Fulford was booked at the Santa Ana Jail for PC 288/ 647.6 Child Molest, PC 314 Lewd Conduct and PC 313 Distributing Harmful Matter to a Child. His bail is set at $100,000.
Suspect Tracey Stephan Fulford has been a basketball and track & field coach in the SAUSD for 37 years, often providing students private lessons. SAPD Detectives believe there may be additional victims and ask anyone with information contact Detective E. Majors at 714-245-8378, emajors@santa-ana.org or Orange County Crime Stoppers at 1-855-TIP-OCCS.
Booking Charges: PC 288/ 647.6 Child Molest, PC 314 Lewd Conduct and PC 313 Distributing Harmful Matter to a Child. His bail is set at $100,000.