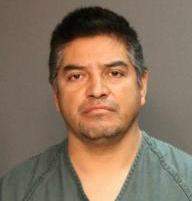 Contact: Sgt. Manuel Chavez – Public Information Officer, Santa Ana Unified School District, City of Santa Ana, Office:714-558-5535, Cell:714-309-7674
Contact: Cpl. Anthony Bertagna -Public Information Officer Santa Ana Police Department, Office: 714-245-8029, Cell: 714-709-2043
Santa Ana Police Department Advisory: LAW ENFORCEMENT IS SEEKING THE PUBLIC'S HELP IDENTIFYING POTENTIAL ADDITIONAL VICTIMS OF A COSTA MESA MAN ARRESTED AND CHARGED FOR INDECENT EXPOSURE NEAR SCHOOLS
SANTA ANA – On Friday, December 7, 2012 at approximately 7:55 AM, a Santa Ana School Police Officer saw a vehicle matching the description of a vehicle wanted in connection with a series of indecent exposure incidents near schools.The reported incidents date back to October 2012 and as recent as December 6, 2012. The Santa Ana Unified School District Police Department had an open and ongoing investigation where multiple female students, ages 14 to 16 years old, reported seeing a suspect exposing himself as they walked to school.
A traffic stop was conducted at Fairview Street and Warner Avenue in Santa Ana and the driver, identified as 47 year-old Alfredo Landaverde from Costa Mesa, was detained for further investigation. Landaverde was positively identified by multiple victims and subsequently arrested.
The Santa Ana School Police Department is collaborating with the Santa Ana Police Department Sex Crimes Unit which also has an unsolved case that may be linked to Landaverde. Through the course of the investigation, it was determined that Landaverde may have committed similar crimes in the city of Fountain Valley and Costa Mesa.
For full details, view this message on the web.