Santa Ana Police Department
Advisory: MISSING PERSON: Sarah Neomi Gonzalez (33)
Description: Hispanic female, 5'08", 205 lbs., black hair, brown eyes.
Last seen on 03/08/2016, leaving her home located at 1024 E. Russell St. Santa Ana.
On 3/9/16, Sarah Gonzalez was reported missing after she walked away from her family home. She was previously reported missing on 11/06/15, she was located in the City of Pomona several days later. Sarah has told her mother she was "tired of life", however has never attempted suicide.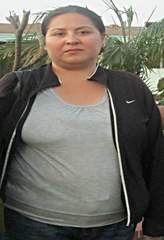 Sarah is described as calm and extremely reserved. Gonzalez has been diagnosed with Schizophrenia and is prescribed several medications. She took her passport and approximately $300.00. She often utilizes the OCTA bus system. If located please contact the below listed persons.
If located please contact the following listed persons: Investigator Velarde-Reyes 714 245-8393, Watch Commander 714-245-8701 or Dispatch 714-834-4211. You can also contact Orange County Crime Stoppers at 1-855-TIP-OCCS.