City of Santa Ana
Community: Santa Ana Public Library to Host Workshop Featuring Noted Expert on Reaching Teens, Dr. Kenneth Ginsburg, M.D.
The Santa Ana Public Library has announced that it will be holding a summit meeting for organizations and agencies serving youth in Santa Ana. Titled Resilient Youth, Resilient Community, the summit will bring together youth serving organizations to explore the importance of cultivating emotional strength and self-esteem in the teens and young adults. The summit will be held at the Santa Ana Public Library on April 8, 2016 from 9:00 am to 4:00 pm.
For many years, Santa Ana Public Library has dedicated itself to using creative library programs to serve a community with few resources and many challenges. This summit is in the tradition of service the library has created, providing programs that motivate the community to improve itself. The summit will share with youth service providers how to nurture teens' essential characteristics and help them come together in a community of caring for our teens and young adults.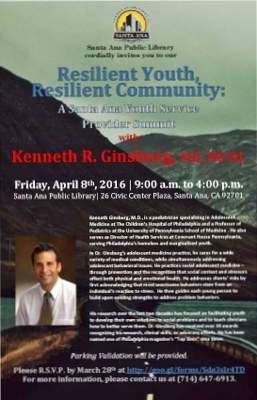 Noted pediatrician Dr. Kenneth Ginsburg will headline the summit. Dr. Ginsburg practices adolescent medicine and teaches physicians and other practitioners at the Children's Hospital of Philadelphia and the University of Pennsylvania School of Medicine. He also serves as Director of Health Services at Covenant House Pennsylvania, serving Philadelphia's homeless and marginalized youth. Dr. Ginsburg practices social adolescent medicine, which focuses on prevention and the recognition that social context and stressors affect both physical and emotional health.
Dr. Ginsburg will bring his extensive experience and teaching skills to the summit, utilizing his well-respected Reaching Teens curriculum to provide attendees with effective tools for helping young people to meet challenges and turn them into opportunities. In addition, a goal of the summit is to initiate ongoing information sharing and cooperation between the attendees' organizations, increasing the effectiveness of the efforts of the participating organizations, and creating within Santa Ana a community of care for our young people and their future.
Dr. Ginsburg will be sharing his "Reaching Teens" toolkits with participants. "Reaching Teens" has been used as a professional development tool to build youth serving professionals' capacity to APPLY the foundational principles of Positive Youth Development, resilience theory, and trauma-informed care. Among the cities/counties that have been trained in this model by Dr. Ginsburg are Modesto, California, Monterey County, California and the Mental Health Connection of Tarrant County, Texas (Fort Worth and Arlington).
The summit will be held at the Santa Ana Public Library, 26 Civic Center Plaza, Santa Ana, CA, on April 8, 2016 from 9:00 am to 4:00 pm. Interested youth service providers can reserve a place at the summit online, or by phone to the Santa Ana public Library TeenSpace at 714-647-6913. Attendees will receive either a printed or electronic copy of the Reaching Teens curriculum.