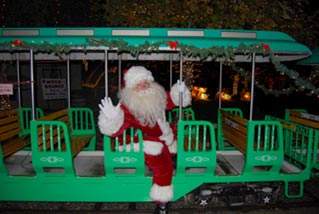 Irvine Park Railroad's 17th Annual Christmas Train – Dec. 8, from 5 p.m. to 8 p.m.  (Activities open at 4 pm).
It's the season, once again for Irvine Park Railroad's annual Christmas Train. Come with family and friends and take this enchanting night ride through historic Irvine Regional Park to meet Santa Claus. The train will depart from the brightly-lit train station and drop you off at Santa's Village.
While waiting to meet Santa, you may purchase coffee, hot chocolate, freshly-popped popcorn and cookies from our Elf House Snack Bar to warm you up. A full kitchen menu is also available at the Train Station.
Visitors may take their own pictures with Santa or you may purchase a picture taken by Irvine Park Railroad. Each 5" x 7" photo will be presented with an Irvine Park Railroad border and available for pickup shortly after being taken.
After visiting with Santa, hop back aboard the train and enjoy the colorful Christmas lights and decorations, as well as the magical "Tunnel of Lights", on the ride back to the station house. When visiting the Christmas Train, remember to dress warmly, bring your camera and film, and arrive early to avoid crowds.
Santa will visit Irvine Park Railroad Dec. 7-9 and Dec. 14-23. Please check the Events & Programs section for specific times, at www.ocparks.com/irvinepark.
The cost to ride the Christmas Train is $10 per person. Children younger than 24 months ride free. Tickets may be purchased in person or online.
Parking for Irvine Regional Park is $3 per vehicle on weekdays and $5 per vehicle on weekends. Parking for the Christmas Train is free after 5 p.m.
Tickets may be purchased online.  Click here for coupons.
Event Fee: $10 per person (children younger than 24 months ride for free)
Parking Fee: $3 weekdays, $5 weekends, free after 5 p.m.
Age: All ages welcome!
Irvine Regional Park
1 Irvine Park Road
Orange, CA 92869
(714)973-6835 or (714)973-6836
Special Instructions: Visit www.irvineparkrailroad.com or call (714) 997-3968 for more information.
Please visit www.irvineparkrailroad.com or call (714) 997-3968 for more detailed information and directions.