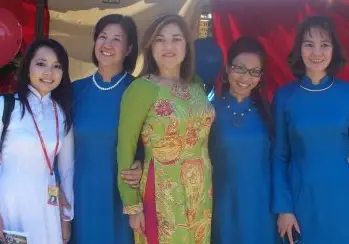 Congresswoman Loretta Sanchez, Representing California's 46th Congressional District
PRESS RELEASE, FOR IMMEDIATE RELEASE: July 8, 2015
MEDIA CONTACT: Emily Morris, 202-226-2965, Emily.Morris@mail.house.gov
REP. LORETTA SANCHEZ SPEAKS OUT AGAINST WHITE HOUSE HOSTING VIETNAM LEADER
WASHINGTON, D.C. – Congresswoman Loretta Sanchez (CA-46), Co-Chair of the Congressional Caucus on Vietnam, today released a statement criticizing the White House for hosting General Secretary of the Vietnamese Communist Party, Nguyen Phu Trong, who does not hold an official government position, despite Vietnam's well documented human rights abuses that continue under his regime:
"I am disappointed that the administration has chosen to host Nguyen Phu Trong, the General Secretary of the Vietnamese Communist Party. There continue to be egregious and systemic human rights abuses in Vietnam, including religious and political persecutions. As an advocate for human rights in Vietnam I cannot ignore the dismal state of freedom of the press and freedom of speech.

"We need to send a message that respect for human rights precludes closer economic and security relationships. The mistreatment of political prisoners is outrageous, especially in light of their sentences for practicing peaceful expression and political advocacy. There must be continued support for activists and efforts in fighting for the basic freedoms we take for granted in the United States."
Rep. Sanchez recently signed onto a letter to President Obama along with other members of congress that encourages President Obama to bring attention to the mistreatment of political and religious prisoners in Vietnam, call on Mr. Trong to release prominent citizen journalist, and encourage Mr. Trong to listen to the Vietnamese people and show respect for their rights and freedoms.
Rep. Sanchez is the founder and Co-Chair of the Congressional Caucus on Vietnam and has been working on the ongoing human rights crisis in Vietnam, including its severe labor rights issues for the past 18 years. Rep. Sanchez represents one of the largest Vietnamese populations outside of Vietnam in the world, in Orange County, California.
###
Congresswoman Loretta Sanchez is proud to represent California's 46th Congressional District, which includes the cities of Anaheim, Santa Ana, and parts of the cities of Garden Grove and Orange in Orange County. She serves as Ranking Member of the House Armed Services Subcommittee on Tactical Air and Land Forces and the second ranked Democrat on the Committee on Homeland Security.
###