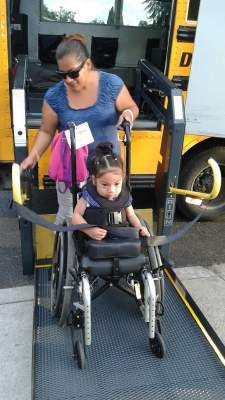 Did the burglars feel guilty over the Thanksgiving holiday? We may never know but what we do know is that the wheelchair stolen from the back patio of four-year-old Milagros has been returned to her family's Santa Ana home, at the 400 block of South Flower Street, according to the OC Register.
The wheelchair was returned, clean and in a plastic bag, sometime on early Friday morning. Milagros' dad found it when he returned from delivering newspapers in the morning. 
Joyce Brandman, a Beverly Hills philanthropist and president of the Saul and Joyce Brandman Foundation, gave the Perez family a $10,0000 check before Thanksgiving so they could buy a new wheelchair.
Even though the wheelchair was returned, Brandman said she wants the family to keep the donation and use the money for Milagros' care, according to the OC Register.
Brandman heard about what happened to Milagros while she was watching the news on TV, just as she was about to start cooking her family's Thanksgiving meal.
"It didn't take me even a minute to know that I needed to help this family," she said. "This family was desperately in need. I have a wonderful life and we're all supposed to give back. It doesn't matter how much or to who."
Milagros' mom said she'd like to meet Brandman and thank her in person for the donation, which she plans on using to buy a car better designed to transport Milagros in her wheelchair. Brandman said she would like to meet Milagros too.
The SAPD has dusted the wheelchair for fingerprints and they took DNA and fingerprint samples as well.
Milagros and her family don't have it easy. They lost their house of 16 years more than two years ago and have been struggling to make ends meet ever since. The family also has two sons.
Perez-Sanchez, Milagros' father works two jobs including delivering newspapers. Her mom stays at home to care for Milagros, who has other health issues in addition to having no legs.
The SAPD gave Milagros' family a Christmas tree and a full Thanksgiving dinner. And two wheelchairs were donated to Milagros. Her mom said she plans to donate one of them to another needy family as it is a full-sized wheelchair that cannot accommodate the diminutive Milagros.
Milagros' mom said that she was glad that God touched the heart of the person who took the wheelchair.