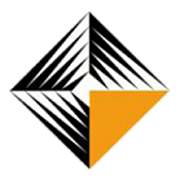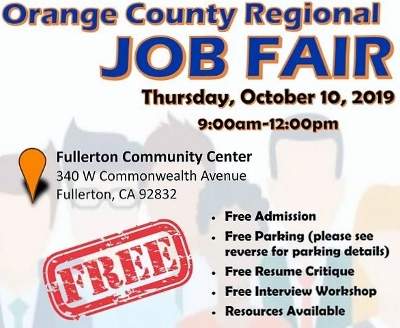 Santa Ana, Calif. (September 17, 2019) – Over 400 job seekers are expected to meet with potential Orange County employers at the First Annual Orange County Regional Job Fair. Hosted by the Orange County Board of Supervisors and in partnership with the Orange County Workforce Development Board (OCDB), Anaheim Workforce Development Board, Santa Ana Workforce Development Board and Fullerton City Council, the OC Regional Job Fair will take place on Thursday, October 10 from 9 a.m. to 12 p.m., at the Fullerton Community Center, located at 340 W. Commonwealth Ave., in Fullerton. This event is free and will be open to the public.
More than 70 employers will be in attendance representing a wide range of industries, including business, environmental, manufacturing, healthcare, hospitality, tourism, retail, education, finance and banking, government, public safety, sales, telecommunications, and transportation. Employers will be accepting resumes, interviewing and possibly hiring future employees.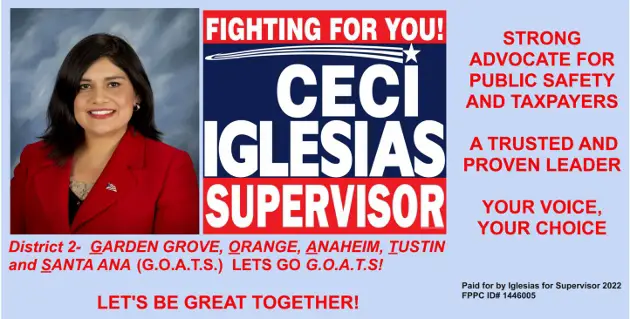 Free resume critique and professional coaching will be offered throughout the event, and a priority registration table will be available for veterans.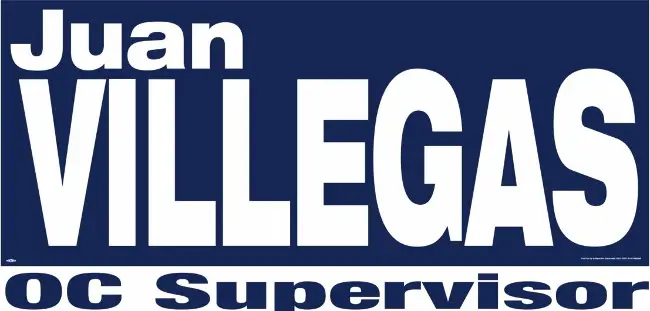 "The County is pleased to offer free resources to better prepare job seekers for face-to-face opportunities with hiring managers and company recruiters," said Doug Chaffee, Fourth District Supervisor. "I encourage those interested to attend one of the preparation workshops hosted at our OC One-Stop Centers ahead of the Regional Job Fair."
Registered Employers who will be at the Job Fair:
Allied Universal Security Services https://jobs.aus.com
Creative Resources Technology Group Inc. www.creativeresources.net
Durham School Services www.durhamschoolservices.com
Ensign Services www.ensignservices.jobs.net
Episource www.episource.com
Glidewell Laboratories www.glidewelldental.com
Kaiser Permanente www.kp.org/careers
LA County Sheriff's Department www.LASDcareers.org
LAZ Parking https://jobs.jobvite.com/lazparking
Oto Development www.otodevelopment.com/careers
Rainbow Homecare www.rainbowhomecare.com
RMSI www.rmsicareers.com
Sprouts Farmers Market www.sprouts.com/careers
Tradesmen International www.tradesmeninternational.com
Keolis Yellow Cab of Greater Orange County www.yellowcab.com
Arborland Montessori Children's Academy www.arborland.com
Childcare Careers www.childcarecareers.net
First Student www.firstgroupcareers.com
US Army www.goarmy.com
US Foods www.usfoods.com
Employment Development Department – Tax Branch ww.edd.ca.gov
Farmer Boys www.farmerboys.com
GMI Building Services www.gmiweb.com
MediastratX https://mediastratx.com
Mission Landscape www.missionlandscape.com
Southern California Edison www.sce.com
Sunrise Produce www.sunriseproduce.com
IBEW Local 441 www.ibewoc.com
Anaheim Marriott http://www.careers.marriott.com/
Bloomingdale's The Outlet Store www.bloomingdalesjobs.com
Burlington www.burlingtonstores.jobs
Coastal Boilers www.coastalboilers.com
Community Action Partnership of Orange County www.capoc.org
County of Orange www.ocgov.com/jobs
US Census Bureau www.census.gov
Raymond Handling Solutions www.raymondhandlingsolutions.com
Patterns Behavioral Services https://www.patternsbehavior.com/
Ocean Hills Recovery Inc. www.oceanhillsrecovery.com
New Horizons Career Development Solutions www.nhlearninggroup.com
Loving Homecare Inc. www.lovinghomecareinc.com
DaVita https://www.davita.com
Go RN www.gornapp.com
Scheduled dates and times for these workshops can be found on the OC One-Stop Centers' website at https://www.oconestop.com/workshops.
For more information about the Orange County Regional Job Fair, please contact Mechelle Haines at (657) 230-5290 or visit https://www.oconestop.com/job-fairs.