Concerned residents convinced the Garden Grove City Council, at their meeting tonight, to oppose the Orange County Vector Control District's plans to conduct aerial spraying of mosquito poison over our homes.  The Garden Grove City Council is sending a letter to the Vector Control District asking them to delay the spraying and hold public hearings, according to KCBS News.
A Facebook group committed to stopping the spraying now has over 1,500 members.  Click here to join.  Many of these concerned residents protested at the offices of the Vector Control District, in Garden Grove, today.
As usual the Vector Control District is trying to scare us but the reality is that this spraying is not necessary.  They are doing it to justify their budget and their continued pilfering of our property tax dollars.
The Vector Control District used the Labor Day holiday to hide their announcement about the spraying – and did not even tell the Orange County Supervisors what they were planning to do.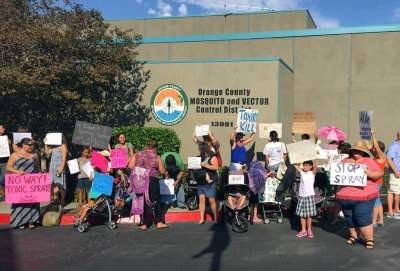 We must continue to fight back!  The spraying is supposed to start tomorrow night, on Sep. 9, over the cities of Orange, Tustin, Villa Park and portions of Anaheim, Fountain Valley, Garden Grove, Santa Ana and Stanton between 10 p.m. and 4 a.m.
Click here to find the contact info for your O.C. Supervisor.  Click here for a contact list of all the members of the O.C. Vector Control District's Board. These are mostly political hacks who are on the Board to collect a stipend.  Time to wake them up and let them know how upset you are about the spraying! Santa Ana residents can call Vector Control District Board Member Cecilia Aguinaga at (714) 478-2918.
Here are some more local elected and appointed officials you should contact: