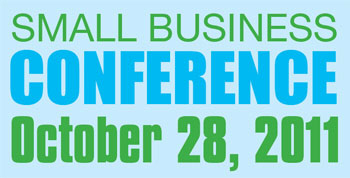 The 2011 OCTA Small Business Conference will be held on Friday, October 28, 2011 from 7:00 a.m. – 1:00 p.m., at the DoubleTree Hotel, located at 100 The City Drive. in Orange.
The 2011 OCTA Small Business Conference is designed to support, promote and strengthen businesses' competitiveness and marketability with OCTA, other public agencies, and private sector businesses. This year's program includes a welcome breakfast program, seminars, exhibit booths and extensive networking opportunities.
Following is a summary of this year's schedule:
Registration and Continental Breakfast: 7:00 a.m. – 8:00 a.m.
Welcome and Opening Program: 8:15 a.m. – 8:45 a.m.
Exhibit and Networking Hall: 8:45 a.m. – 12:30 p.m.
Morning Seminar: 9:30 a.m. – 10:30 a.m.
Afternoon Seminar: 11:00 a.m. – 12 noon
Some important benefits your company will receive at this year's conference are:
General and targeted recognition throughout the conference
Networking opportunities with fellow sponsors, prime contractors, vendors, business experts and exhibitors that are sure to increase your business circle and strengthen your reach
Promotional and communication opportunities
In addition, this year's conference will provide valuable information and technical resources that will enhance your business' competiveness and/or capacity to partner when competing for procurement or contracting opportunities. Also, expert procurement officials will lead seminars and Q&A sessions designed to provide insight into the ever more competitive procurement process.
Now – more than ever before – is the time to register to participate in the 2011 Small Business Conference. For sponsors, it promises to be a great investment. For exhibitors, it promises to be a great showcase opportunity. And for small businesses, it promises to be a great chance to increase your competiveness.
Register today!
For more information including sponsorship information, click here. 
Attendee, click here to register. 
Exhibitors, click here to register. 
For more information, please email the OCTA.