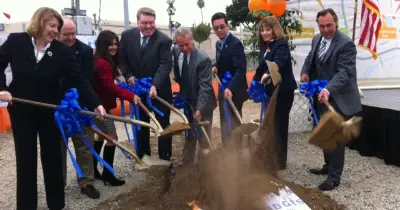 No More Wasting Time Waiting For Trains to Pass
$600 million O.C. Bridges Program separating street traffic from trains at seven locations in north Orange County
ORANGE – Drivers stuck at rail crossings in north Orange County will soon find relief as the Orange County Transportation Authority kicks off a nearly $600 million program that will separate street traffic from trains at seven locations.
Known as the O.C. Bridges Program, the projects will eliminate the need for drivers to waste time idling at rail crossings, waiting for trains to pass.
"Making the important upgrades on these railroad crossings will positively benefit everyone impacted by delays on these crossing," said OCTA Chair Patricia Bates, also the Fifth District Supervisor. "This project will benefit pedestrians, motorists and residents alike by enhancing safety, eliminating traffic delays and improving the quality of life."
OCTA is working to improve traffic flow and safety at seven crossings along the Burlington North Santa Fe rail line in Anaheim, Fullerton and Placentia by building a series of bridges – both underpasses and overpasses – to separate car traffic from trains.
Placentia Avenue, which borders the cities of Fullerton and Placentia, and Kramer Boulevard are the first of the seven projects to begin construction. The additional crossings will begin construction on a staggered basis over the next two years and include Orangethorpe Avenue, Tustin Avenue/Rose Drive, Lakeview Avenue, Raymond Avenue and State College Boulevard.
Nearly 70 trains a day travel along the BNSF rail line through Anaheim, Fullerton and Placentia and that number is anticipated to increase more than 45 percent by 2030 – meaning every 10 minutes a train will be blocking each intersection.
"Without the bridges, drivers would be stuck at blocked intersections waiting for passing trains," said OCTA CEO Will Kempton. "Orange County's economy and communities are second to none and we have to ensure our transportation system supports our growing area. These grade separation projects will have a lasting impact on drivers and I am excited to see them get under way."
For more information, visit www.ocbridges.com.
# # #
Keep up with what's moving: www.octa.net/news and follow us on Twitter @OCTANews